Google Analytics 3 vs 4: differences for your medical business analytics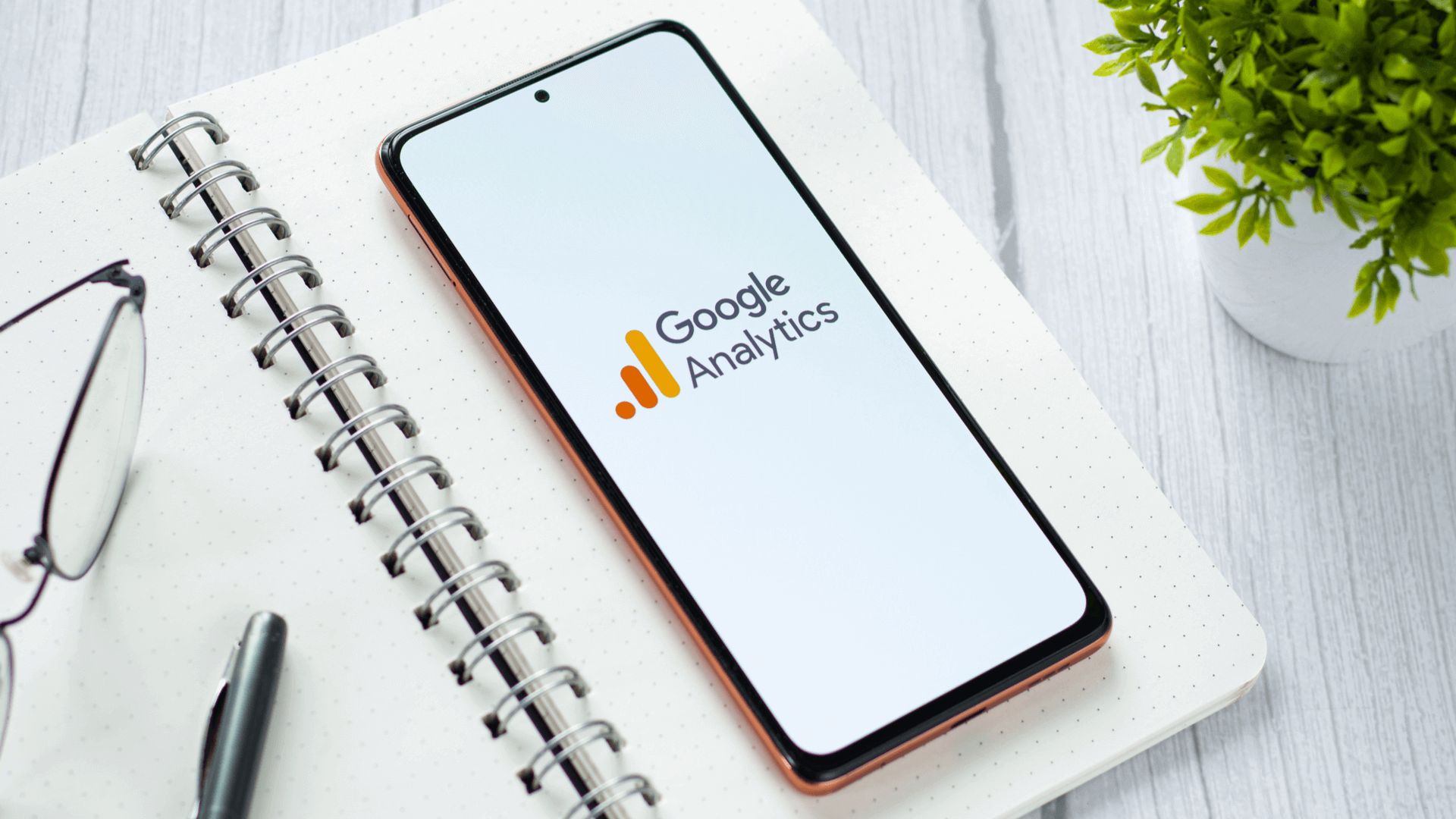 Why should you invest energy into learning something completely new, when there is a safe and known path you have been following for the last couple of years?
Let's talk about how Google Analytics 4 can change the way medical businesses collect and reuse data to boost their numbers.
Google Analytics 4 - where does it come from?
We believe Google Analytics needs no introduction: it is a tool that allows us to measure the effectiveness of users' website activities [1]. Despite the similar purpose - data collection - the history of Google Analytics has several turning points. Starting in 2008: the transition from Urchin to classic Google Analytics, then in 2013 from classic Google Analytics to Universal Analytics (UA), with which we had the most frequent contact on a daily basis [2].  And now, the latest turning point - the entirely new version of Google Analytics welcomed us in fall 2020. 
Google Analytics 4 (GA4) turned the world of data collection upside down.  But why is Google constantly changing the approach to collecting data about user traffic?


Why should GA4 get your attention?
Convincing yourself to new things can be difficult. It takes not only time but also commitment to fully understand a new tool which GA4 definitely is. However, it pays off. Why? Google Analytics 4 is likely to evolve significantly. On October 14, 2020, it was announced that GA4 is now the proposed tracking standard for setting up new services by default, and on its tracking standard Google will now focus on [3]. The developers certainly did not say the last word, so it is worth getting started with GA4 today if you want to prepare for the future and thus bring your medical business to the next level. What should catch your attention?
Google Analytics 4 - collect more, track more, know more
Decision path or purchasing impulse? These are the keywords in the context of getting to know customers and their purchasing habits. What encourages clients to follow a particular decision path, what does their journey through the website or app look like, and what makes them want to buy things? To deliver an almost flawless customer experience, you need to know users' decision paths or purchasing impulses. You might ask: what does this have to do with GA4?
While analytics for websites is relatively well developed, analytics for mobile applications leaves as with insufficiency. So far, it could seem unintuitive and - above all - unavailable from the level of classic Google Analytics view. 
GA4 is a response to the growing market of mobile applications. It offers the synergy of actions and behaviors measured both in applications and on websites [3]. As have we tried to highlight in one of our recent articles, the future is mobile. It is not difficult to notice that a tool that allows us to track users' paths in a mobile application and presents data in the same place as those concerning websites is a significant breakthrough. And that is just one aspect of why GA4 is a thing. What else changed?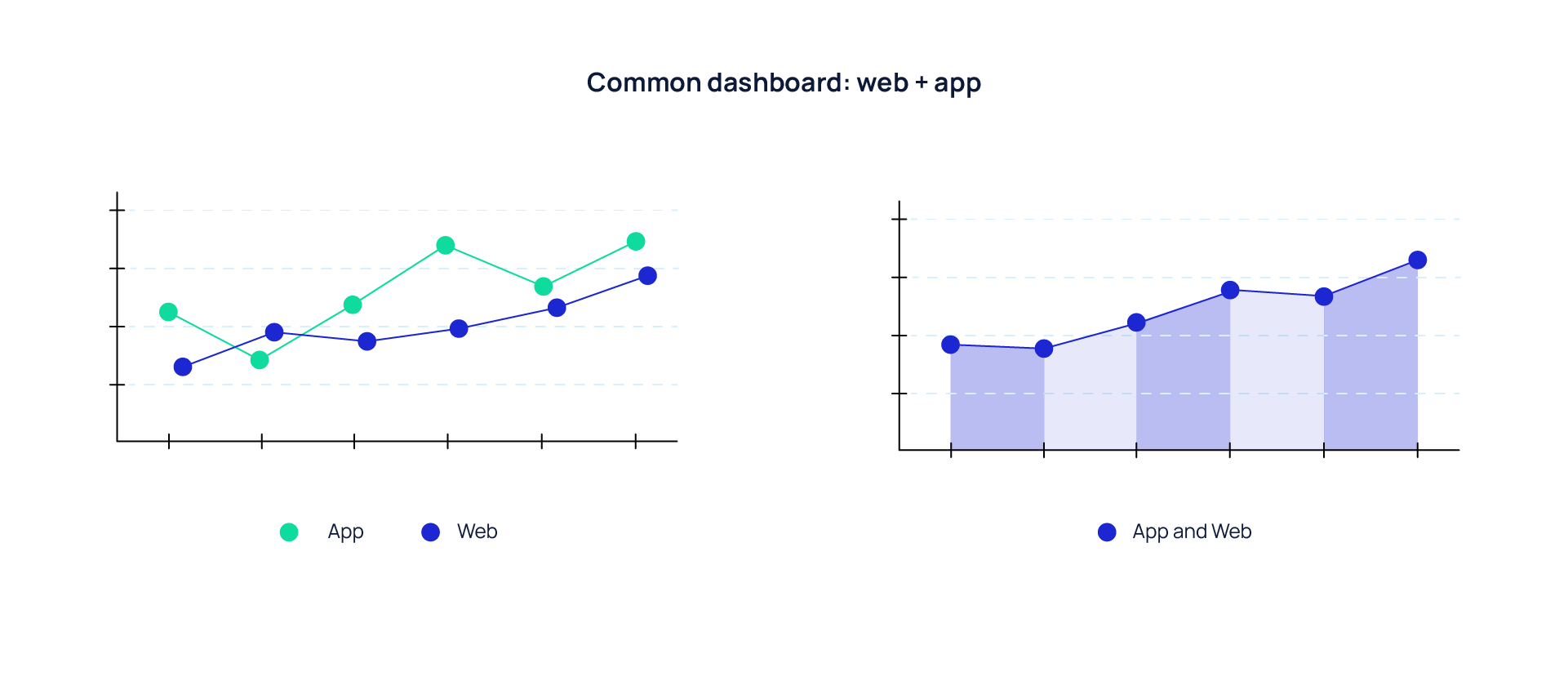 Google Analytics 3 vs 4 - differences in a nutshell
Google Analytics and Google Analytics 4 have the same "core name" which may lead to the wrong conclusion that both of these services will be presenting and analyzing data in the same way.  
Nothing could be more wrong. Here is what changes in the case of GA4.
Event-driven data model
Measuring data in GA4 is reformulated. If you take into account the need to analyze users behavior in both mobile applications and websites, it is easier to do so with the help of GA4.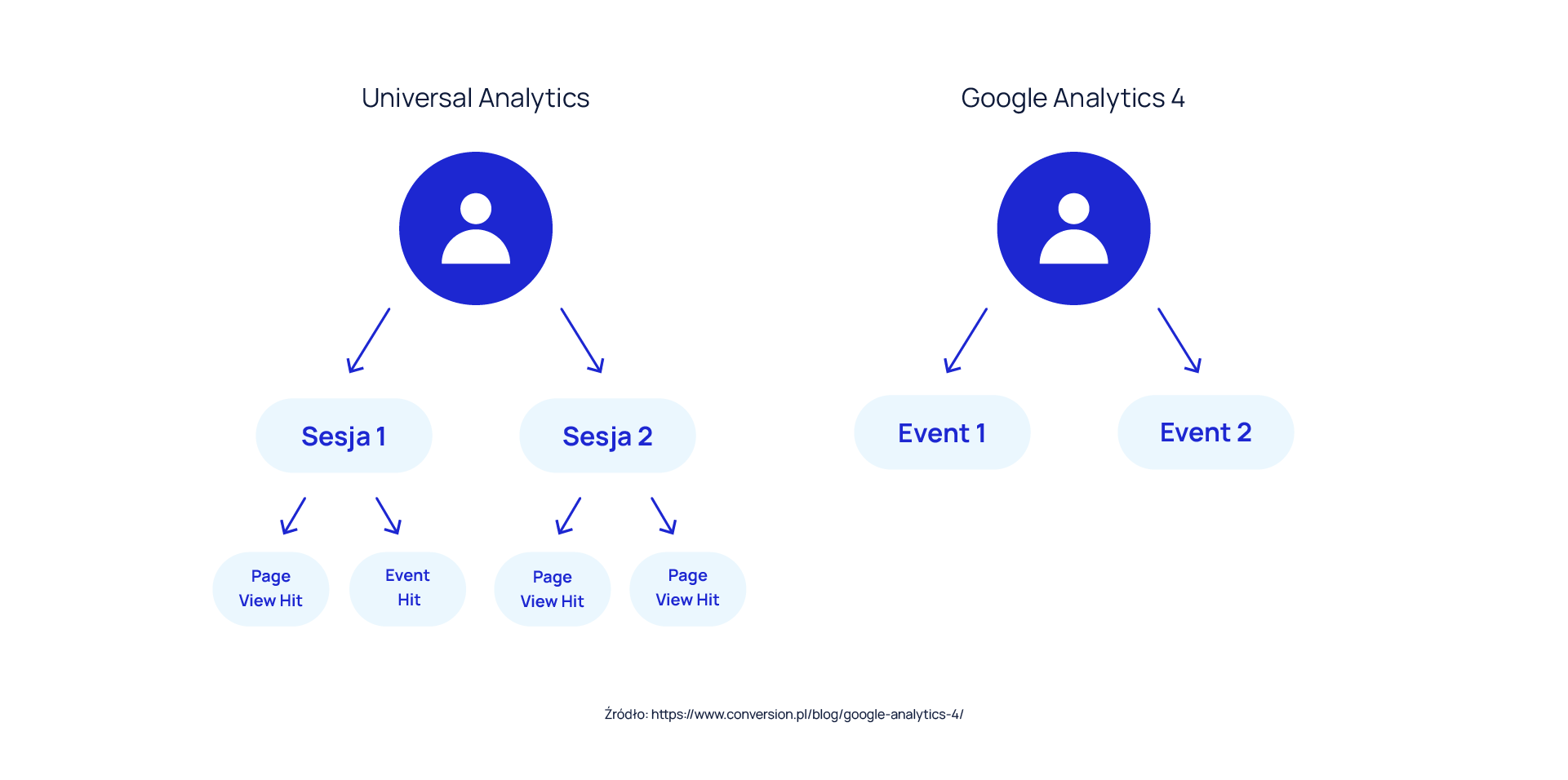 The point of reference in GA4 are events and not sessions like in the case of UA. It should convince you of GA4 because mobile apps are made up of a series of "what users can do in the app" rather than "what users can see" (which was reserved for websites). The event-driven data model describes the experience a user is having within your app and web. This way is more flexible and can be applied nicely to mobile applications as well as a traditional website.
Limits of hits collected
Google Analytics 4 provides information that the number of hits collected is unlimited [3]. It is a significant saving for analysts who currently have to analyze extensive data within the paid Google Analytics 360.
Free data export
Google Analytics 4 enables export to BigQuery (Google Analytics raw database management system). So far, it was possible just for users of Google Analytics 360. Now, thanks to free GA4, even more precise, multi-level data analysis is available.
Why does using GA4 pay off? 
As we established, GA4 is very different from UA, and getting to know it takes time, so why are we trying so hard to convince you that the latest Google service is profitable [4]?
Enhanced Measurement
Enhanced Measurement enables broad event tracking across all marketing channels from one common panel. Thanks to this, much more efficient delivery of the appropriate customer experience is possible.
Customer journey
Advanced metrics and integrated data reporting in one place allow you to learn the users' behaviors and the way they think while using your website and application.
Tailored reports
Analytics revolves around reporting. Google Analytics 4 gives really impressive possibilities. Reports generated in GA4 provide you greater insight into your strategy because they consider the behavior and number of unique users across all marketing channels - both websites and mobile applications.
Medical business analytics - use GA4 and learn the difference
A year has passed since the introduction of GA4. There are at least a few groups that should be interested in implementing this tool for daily analysis. We believe the medical industry is one of them. Why?
Mobile phones and mobile applications are becoming an integral part of consumer choices worldwide. Every day new people become users of mobile services, and as we have been mentioning for a long time, your task is to give them the best possible impression about your mobile app or website. Thanks to Google Analytics 4, mobile application analytics not only becomes more simple and more transparent but first of all it provides even more data and conclusions for analysis. GA4 allows you to analyze behaviors and touchpoints, e.g. ways of interacting with the brand several times on different devices.
Medical business analysis has to develop. In the era of a constantly changing world, the needs of users of medical industries are also evolving. When users' demands pose new challenges for you, there is no better way for customization than to get to know the person you are creating for and analyze their reasoning. That is what GA4 provides. 
There is no room for stagnation if you want your business to grow. Let us help you improve your digital journey today.


1. Z. (2021, October 14). Google Analytics 4 vs Universal Analytics. Digital Marketing and Analytics | Root and Branch. https://www.rootandbranchgroup.com/google-analytics-4-vs-universal-analytics/
2. K. (2020, October 22). What is Google Analytics 4? Ken Williams. https://ken-williams.com/guide/what-is-google-analytics-4/
3. Ketchum, R. (2019, July 31). A new way to unify app and website measurement in Google Analytics. Google. https://blog.google/products/marketingplatform/analytics/new-way-unify-app-and-website-measurement-google-analytics/
4. M. (2021a, November 19). Google Analytics 4 (dotychczasowe App + Web): przewodnik po nowej usłudze Google. Conversion. https://www.conversion.pl/blog/google-analytics-4/