Top healthcare marketing trends to embrace in 2023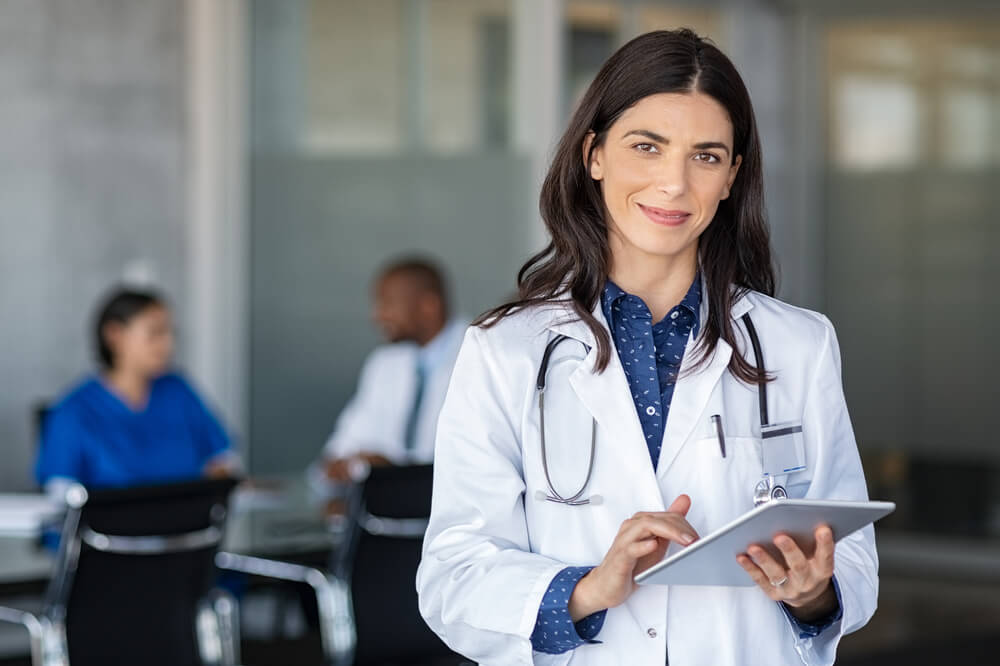 What are the latest healthcare marketing trends, and how will they shape the industry? Look to the future and stay innovative in 2023.
What are the biggest healthcare marketing trends for 2023?
Three years have passed since healthcare organizations experienced one of the most significant reality checks of recent times - the outbreak of the pandemic. When the numerous programs and strategies proved ineffective in the pandemic-shaped environment, the new situation acted as a transformation catalyst, significantly accelerating the digitalization of an entire sector – for the good of businesses, providers, doctors, and patients.
Nevertheless, the world doesn't stay still, and the strategies initiated two or three years ago may not align with the new "post-pandemic [1]" reality. With continuous technological advancements, changing demographics, and new scientific discoveries, it's crucial to look into the future and enhance your strategy with the latest trends that we'll shape healthcare marketing in 2023.
If you're asking how Gen Z is affecting the healthcare industry, what is the role of omnichannel marketing for pharma, and how to increase patient and doctor engagement - you've come to the right place. Read more to learn about top healthcare marketing trends for 2023.
#1 Patient- and doctor-centered content
Offer value, not just share
Today's healthcare landscape is changing not only in the scope of technological advancements and digitalization but also in terms of consumerization.
The healthcare target audience is not just patients and doctors. They are also consumers who manage their own health conditions, choose the educational resources and decide which brand aligns with their values, mission, and interests.
This trend is propelled by the increasing range of health-related services and products. Moreover, besides improved access to healthcare, patients have more options and informational sources than ever before. On the other side of the spectrum, doctors overwhelmed by the flood of promotional materials find themselves looking for educational materials that fulfill their needs and interests. 
Having said that, it is safe to say that today's digitally-savvy consumers have become their own decision-makers in the matter of accessing the information they need and want to consume. It is up to the user to decide which type of content they want to access and at what time.
Therefore, while creating marketing materials, healthcare organizations should focus on consumers' needs instead of the brands'. To build trust, engage users and encourage them to access content, health-related brands need to double down on their efforts to create high-quality medical content. Without obtaining the information consumers need and rely on, they'll just exit the site and continue to look for a more informative source of health information.
Target group transformations
In 2023, we will continue to witness the fights for minority rights, with growing Gen Zs and their evident predilection towards socially-engaged brands. According to 99design, over 50% of Zers prefer to interact with eco-friendly and socially responsible organizations [3].
More and more diverse groups are being present socially and hence – digitally. Generation Z reveals itself as a particularly socially responsible group that supports values such as equity and ethical consumption [4]. More importantly, in comparison to the previous generation, they highly value self-identity and expression. By celebrating their uniqueness, Zers strive to maintain a strong sense of individuality. This fact cannot be omitted by any healthcare organization in 2023.
Thus, building individualized patient experiences connected to unique generational or cultural needs may benefit your marketing efforts. Personalized content strategies will undoubtedly result in increased customer loyalty and improved engagement with your brand.
"Content of attraction"
Video-based and animated content is currently at the top of the marketing trends across many industries. According to Hubspot, almost 90% of marketers will increase or maintain investment in short-form videos in 2023, while 1 in 5 marketers plan to use this format for the first time this year [5]. What could explain this growing interest in video content? 
Short-form videos align well with the shorter attention span of online recipients. With the popularity of TikToks and Instagram's reels, consumers across different demographics and generations have learned to enjoy this highly accessible and concise form of content.
Even though short-form videos may seem more resource-consuming, it's surprisingly easy to repurpose short films into other types of content, such as images, Tweets, and articles. Not to mention that you can distribute your moving images among a plethora of digital channels or embed them on your website.
The other types of "content of attraction" you can consider to strengthen your marketing efforts include 3D illustrations and animations. These forms exploded a few years ago and show no signs of slowing down in 2023 [6].
#2 Omnichannel is the key
Today's consumers interact with brands across many different channels. In 2023, they seek a personalized approach through both digital and traditional platforms. Welcome omnichannel as the top marketing strategy for this year.
With the advent of digital in healthcare, many healthcare brands have opted for expanding their brand presence into digital channels, striving to create as many touch points as possible. This approach is defined as a multichannel strategy.
Putting it simply, multichannel is utilizing more than one channel to reach out to your customers. Thriving to reach a big audience, brands are broadening their influence through social media, the web, mobile, etc. The main objective is to push your messages into numerous channels. Sounds familiar, doesn't it?
To make things clear, this strategy still can be effective for many businesses when you aim to engage customers or increase your brand awareness. Nevertheless, if you bet on creating a consistent and more personalized consumer experience for those who've already got familiar with your brand, shifting your strategy into omnichannel should be your healthcare marketing trend for 2023.
The omnichannel approach changes the game plan inside out. It requires more personalization while bearing in mind the customer's journey. Instead of creating a plethora of single channels treated separately, an omnichannel strategy integrates them, providing a seamless experience across all platforms. As a result, you're ensuring a unified and, more importantly, customer-centered strategy.
A more personalized approach
In the case of an omnichannel strategy, the customer, not the channel, is the primary focus. To create a personalized experience, begin with the segmentation of your target audience.
Patients and HCPs are broad and highly diverse audiences (not only in terms of generations, which we've mentioned before). A good starting point for efficient audience segmentation is combining data from your digital sources with third-party services. By doing so, you will be able to distinguish particular interest groups on the basis of identified trends within each segment —for instance, group physicians by medical specialty, location, and generation. Consider segmenting patients through demographics (with a focus on generation), professions, or health problems. 
These segment insights should enhance your omnichannel marketing efforts, including content strategy. Moreover, you will have the chance to allocate resources more effectively, as you should be able to understand the individual path each customer takes in their buying journey. It is a step of utmost importance to jump-start your new efficient marketing strategy for 2023.
#3 User experience
With the growing number of health-related digital products, HCPs' and patients' expectations toward apps and websites are shifting. Essentially, what they seek is a fast, seamless, and engaging user experience. And in the case of 2023, the consumer experience is much more than a digital product. It is a uniquely personal experience with an entire brand system.
Wishing to build a solid foundation, focus on customer service via your digital platforms. Marketers tend to prioritize the content and campaigns they distribute online, oftentimes forgetting that customer care is a lion's share of the business. Customer care systems that are poorly integrated with your omnichannel strategy can lead to disaster as much as a misguided content marketing campaign.
Therefore, whether consumers contact you via the help desk, phone, or email, all experiences they get while interacting with you have to be of the highest quality. Make sure that both your automated and manual help systems allow for convenient cooperation.
Digital products
The other step you can take to meet the preferences of your healthcare target audience is to increase the effort you put into your digital products. A study finds that 1 in 5 healthcare consumers left a provider because of a poor digital experience [9].
As the old marketing proverb goes – your website is your face. And getting to know you better should be enough to encourage further acquaintance. Design should come together with functionality. Make sure that your attractive website loads quickly, is easy to navigate, and is suitable for a high-quality mobile experience.
7 factors to make your website successful
Stay successful with your marketing strategy in 2023
The world doesn't stay still. With technological advancements, new demographics entering the market, and the next phase of digitalization, healthcare marketing has to continue evolving.
To stay at the forefront of innovation, you have to adopt effective strategies that successfully meet the growing needs of today's healthcare consumers – digital native doctors and digitally-savvy patients. Implementing omnichannel marketing, integrating customer care tools, and relying on personalized user experience, are of utmost importance to stay competitive in today's digital landscape. And we're here to help you! Our diverse team of healthcare professionals, marketers, designers, and developers can help you build an effective marketing strategy to reach digital patients and doctors with success. Shall we start? Contact us.