5 medical startups that you need to pay attention to in 2022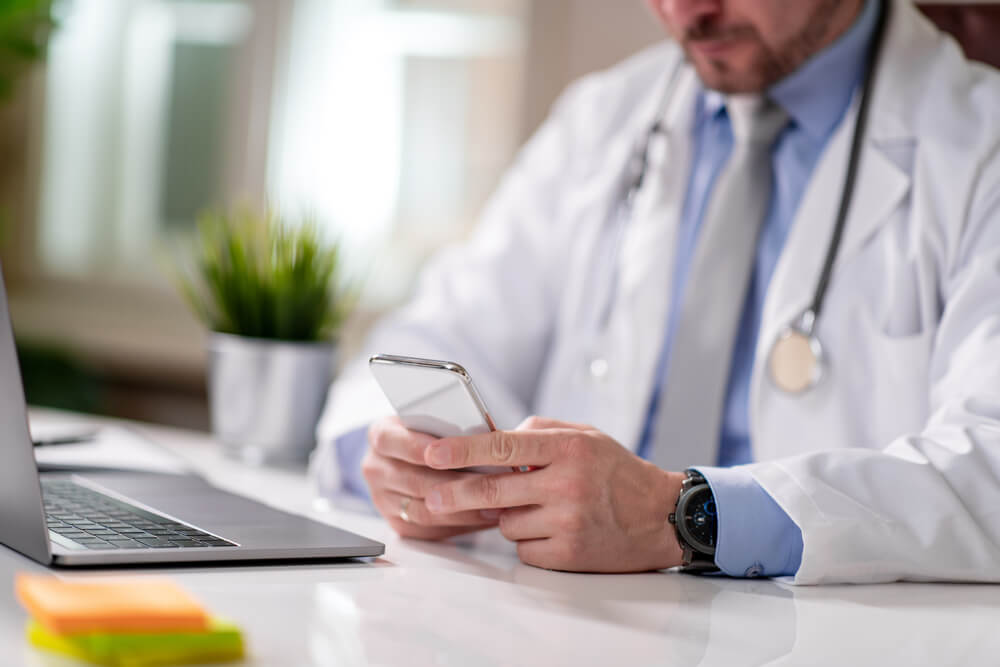 From the increasing adoption of telehealth to the growing use of AI in the health sector, the healthcare space is being radically transformed by technology.
According to Rock Health, 2021 was another standout year for digital health, with startups raising a staggering $29.1 billion across 729 deals. In terms of specialization, a top money-raiser was mental health, bringing in $5.1 billion—$3.3 billion more than any other clinical indication in 2021 [1]. Virtual mental health was a rapidly growing field well before COVID-19, but the stress and anxiety that the pandemic brought on, have accelerated its rapid advancement. The progress has particularly embraced the integration of mental health into broader virtual care platforms and the improvement of virtual options for mental and behavioral health needs.
The other fund-bringing sectors encompassed telehealth (up 68% from $10.5 billion the prior year [2]) and research and development (R&D) in biopharma and medtech (with growth of 2.6x between 2020 and 2021 [1]). Their success has also been strongly impacted by the pandemic. According to the experts, while patients were adjusting to the new remote circumstances by taking up telemedicine, R&D was efficiently stimulated by the COVID-accelerated adoption of real-world evidence.
Investments in artificial intelligence (AI) startups have also skyrocketed. According to Fierce Health, the AI sector for healthcare brought in a record-breaking $2.5 billion in the first quarter of 2021 in 111 deals [3], up 140% compared to the first quarter of 2020. Considering that, there's no chance you can miss a closer insight into AI-fueled tech for healthcare in 2022.
Read more and discover the top 5 medical startups that express global healthcare trends by launching new products, targeting specific health needs, and providing care in new and innovative ways.
1. Prognos Health
Market positioning: Health tech
According to the industry's analyses, "the global artificial intelligence in the healthcare market is expected to expand at a compound annual growth rate (CAGR) of 38.4% from 2022 to 2030 [4]". The growing datasets of patients' records with an increasing demand for reducing care expenses constitute some of the many driving forces that encourage healthcare businesses to implement AI-tech.
Properly developed AI has the potential to make our health care system more efficient and less expensive. It could support the diagnostics, ease the paperwork, and fill the gaping holes in access to quality care in the world's poorest places. More importantly, it may serve as a clinical decision support tool that can help doctors improve decision-making and patient data management. Read more about the deployment of AI-tech to your healthcare business here.
This revolutionary potential of artificial intelligence was acknowledged by the founders of Prognos Health. In essence, it operationalizes patient data and physician information to improve analytics and data value. As Prognos states, its platform "leverages the power of AI to integrate de-identified patient data from multiple sources, such as lab results, prescription, and medical claims, in order to harmonize it at scale [5]". Consequently, besides suggesting the best treatment methods at the earliest possible time, Prognos accelerates the tactical execution of business strategies for healthcare companies.
Prognos has been acquired by Livongo which has raised around $235 million so far [6].
2. Covera Health
Market positioning: Health tech
As we mentioned, over the past few years, healthcare organizations are becoming more aware of the enormous potential that AI could bring to the entire sector. Particularly in the field of medical diagnosis, artificial intelligence has shown immense promise in improving medical care in terms of supporting medical practitioners. Considering that medical errors account for the deaths of an estimated 200,000 people and cost $1.9 billion annually [7], Covera Health aims to capitalize on AI's potential to significantly decrease the medical error rate while maximizing practitioner efficiency.
Covera's Health's initial focus is radiology. The AI-based tech analyses patient data and measures the delivery of care across conditions and patient populations to understand its impact on treatment, outcomes, and costs. In effect, it supports radiologists in the decision-making of patient management with quality insights while improving the accuracy of their diagnoses. 
Covera's Health's platform is certified by AHRQ as a Patient Safety Organization to safeguard access to provider and patient data [8].
3. Healthy.io
Location: Tel Aviv, Israel
Market positioning: Medtech
The pandemic has disrupted the way medical help is delivered. Telehealth attracted widespread interest during the height of the pandemic, proving to be a viable and safe alternative to the traditional ways of medical consultations. However, the global return to the offices and stationary work hasn't stopped the great career of virtual examinations from continuing to revolutionize telemedicine. The level of utilization of telehealth has significantly increased, reaching levels 38X higher than before the pandemic [9]. Finding its prominent place in the present-day healthcare landscape means that telehealth is still a hot topic among patients, doctors, and healthcare organizations. This fact hasn't been overlooked by the startups leading in 2022.
The best example of this kind of practice offers Healthy.io, a startup from Israel. Long before the pandemic, its founding team recognized the enormous potential of smartphone cameras, especially as their video quality is continually improved. Acknowledging this they developed a technology that transforms the smartphone camera into at-home medical test kits. Patients who leverage this tool can do UTI testing, prenatal monitoring, open wound assessments, and more while keeping in constant touch with medical practitioners. As the team of Healthy.io claims, by enabling people to test at their convenience, they help healthcare systems better manage various medical conditions, saving lives and cutting costs [10].
Over the years, this medtech innovator has partnered with organizations like NHS, Johns Hopkins Medicine, and the National Kidney Foundation. Keep an eye out for its future collaborations, as it's in the Series C of funding that measured $90M [11].
4. Cerenion
Market positioning: Mental health software
As we have said, mental health was the top money-raiser of the digital health sector, which tightly aligns with the global trend of the prevalence of mental health disorders [12]. The increase in stress and anxiety levels entailed by the pandemic and the escalating patients' needs for mental health services are contributing to the continuous market growth. And startups like Cerenion add a special value to this sector.
Cerenion is a medical device company that was founded in Finland over a decade ago, and so far, it has raised €2.5 million [13]. This huge funding makes it one of the potentially successful startups in healthcare.
With the deployment of artificial intelligence (AI), Cerenion has developed software for easy and convenient monitoring of the neurophysiological status of the brain during intensive care. To help healthcare professionals in clinical decision-making, Cerenion C-Trend® technology combines EEG measurements with machine learning algorithms. As a result, it processes the complex EEG recording to reveal a set of easy-to-comprehend parameters that measure brain functions.
As we're convinced, Cerenion's solution can empower healthcare professionals (HCPs) with the first practical bedside measurement of brain function while improving the quality of care and lowering the costs of intensive care.
Cerenion C-Trend® is CE-marked as a Class IIb medical device in the European Union  [14].
5. PlushCare
Location: San Francisco, California, USA
Market positioning: Telehealth
A company that combines the trend of mental health support with telehealth services is the startup PlushCare. PlushCare's founders have also found unfulfilled potential in smartphones' capabilities. They asked themselves - if food delivery and transportation have been revolutionized by the widespread availability of mobile phones, why are patients still crowding in waiting rooms to see their doctors [15]?
Accolade, the company based on guiding patients through healthcare options, recently acquired PlushCare after the two companies partnered to offer members virtual primary care during the height of COVID-19 [16].
Rely on professionals
The healthcare industry is becoming digital-first. From doctor's appointments to complex diagnostics, the healthcare space is rapidly being integrated with technology. Startups that pop up today and, most importantly, get funding fits into the micro and macro trends that the healthcare industry reflects. 
Are you eager to stay ahead of the curve and win in the medical market? Rely on professionals who combine practical medical experience with marketing, design, and technological know-how. Owing to that, we perfectly understand the needs, interests, and behavior of patients and healthcare professionals, acknowledging the opportunities and limitations that the healthcare market faces.
Depending on your business goals, we will help you evaluate your ideas and choose between native and cross-platform solutions. Let's talk and discuss your way forward!
Landi, H., Digital health startups banked record-breaking $29.1B last year. Will the momentum continue in 2022?, Fierce Healthcare, https://www.fiercehealthcare.com/digital-health/digital-health-funding-topped-29b-2021-almost-doubling-2020-s-record-breaking-year [last accessed: 08.06.2022].

Landi, H., Global digital health funding skyrockets to $57.2B with record cash for mental health, telehealth, Fierce Health, https://www.fiercehealthcare.com/digital-health/digital-health-startups-around-world-raked-57-2b-2021-up-79-from-2020 [last accessed: 08.06.2022].
Landi, H., Global investment in telehealth, artificial intelligence hits a new high in Q1 2021, Fierce Health, https://www.fiercehealthcare.com/tech/global-investments-telehealth-ai-startups-reached-record-levels-q1-2021 [last accessed: 08.06.2022].
Artificial Intelligence In Healthcare Market Size, Share, And Trends Analysis Report By Component (Software Solutions, Hardware, Services), By Application (Virtual Assistants, Connected Machines), By Region, And Segment Forecasts, 2022 - 2030, Grand View Research, https://www.grandviewresearch.com/industry-analysis/artificial-intelligence-ai-healthcare-market [last accessed: 08.06.2022].
Prognos Health, https://prognoshealth.com/ [last accessed: 08.06.2022].
Startups in the Healthcare Sector Worth Learning From in 2022, SPD Load, https://spdload.com/blog/best-healthcare-startups/ [last accessed: 08.06.2022].
Powell, A., AI revolution in medicine, The Harvard Gazette, https://news.harvard.edu/gazette/story/2020/11/risks-and-benefits-of-an-ai-revolution-in-medicine/ [last accessed: 08.06.2022].
Covera Health, https://www.coverahealth.com/ [last accessed: 08.06.2022].
Bestsenny O., Gilbert G., Harris A., Rost J., Telehealth: A quarter-trillion-dollar post-COVID-19 reality?, McKinsey, https://www.mckinsey.com/industries/healthcare-systems-and-services/our-insights/telehealth-a-quarter-trillion-dollar-post-covid-19-reality [last accessed: 08.06.2022].
Healthy.io, https://healthy.io/eu/about-us [last accessed: 08.06.2022].
Howarth, J., 20 Rising Medtech Startups (2022), exploding topics, https://explodingtopics.com/blog/medtech-startups [last accessed: 08.06.2022].
Mental Health Market: Global Industry Trends, Share, Size, Growth, Opportunity and Forecast 2022-2027, imarc, https://www.imarcgroup.com/mental-health-market [last accessed: 08.06.2022].
Cerenion, Crunch Base, https://www.crunchbase.com/organization/cerenion [last accessed: 08.06.2022].
Cerenion, https://www.cerenion.com/ [last accessed: 08.06.2022].
PlushCare, https://plushcare.com/about/ [last accessed: 08.06.2022].
Howarth, J., 42 Healthcare Startups To Watch (2022), exploding topics, https://explodingtopics.com/blog/healthcare-startups [last accessed: 08.06.2022].