Most common Google Ads restrictions for Medical Devices that you can't afford to ignore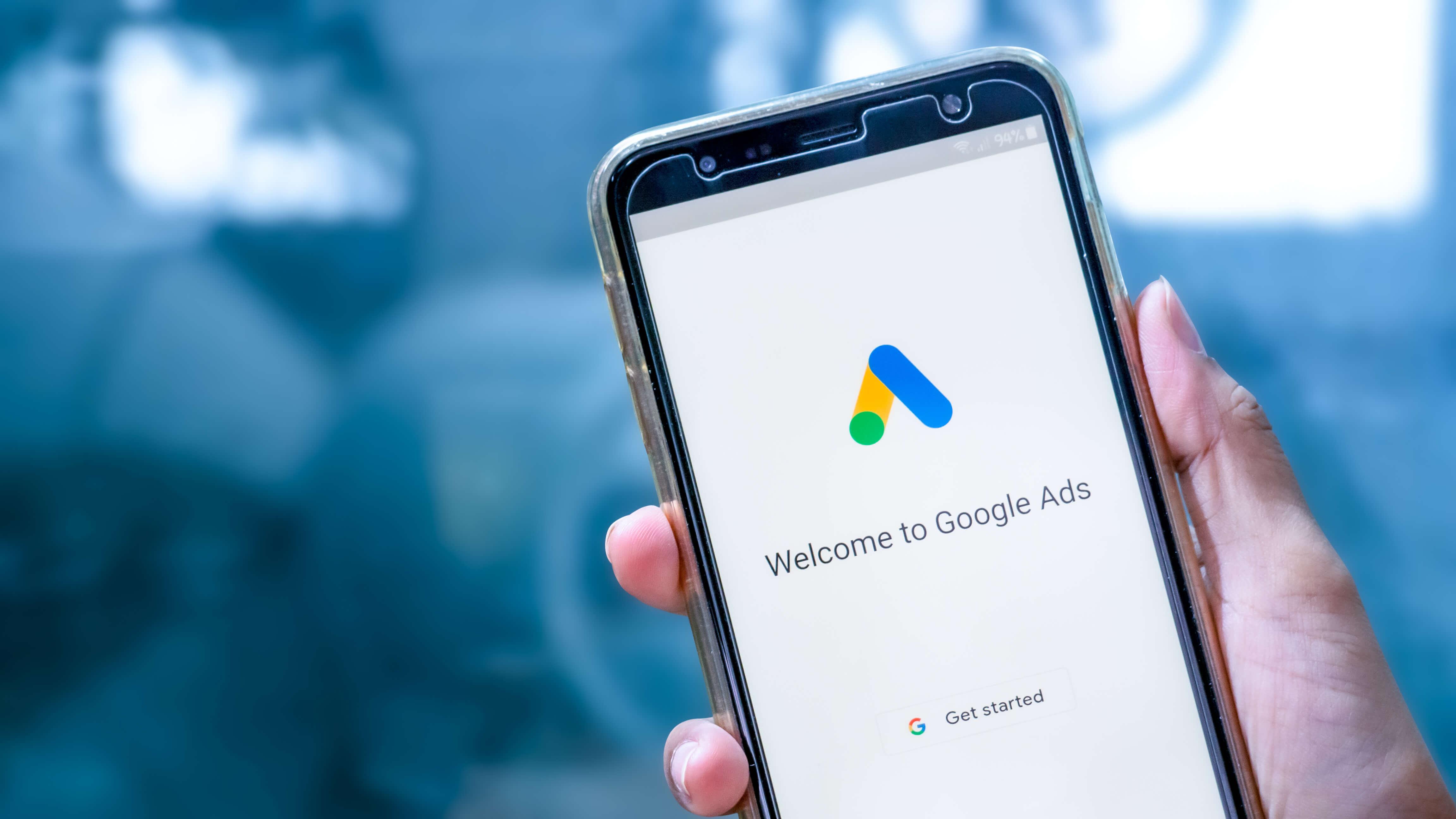 What is Sensitive Events Policy or Advertiser-Curated Audiences? Keep reading to learn about the Google Ads restrictions for the Medical Devices sector.
Digital advertising is an excellent up-to-date tool for marketers from all industries. Each ad platform has specific advertising rules that you cannot break. Some are explicit and easy to apply, while others are somewhat complicated. Failure to follow the rules is tantamount to getting your ad blocked or your account suspended. 
While marketing Medical Devices, it's particularly easy to get into the trap of advertising limitations. You always have to keep in mind what not to mention and where not to place your ad. Have you heard about the Sensitive Events Policy or Advertiser-Curated Audiences? Keep reading to learn about the Google Ads restrictions and limitations for the Medical Devices sector.
Why is it worth knowing Google Ads restrictions?
There is a golden rule of the digital era for all marketers. If you want to boost sales of your products and raise awareness of your brand, investing in digital advertising is absolutely essential. And Google Ads is one of the ideal ways to do it efficiently. It gives you an unprecedented opportunity to customize your ad to the most relevant format, target your audience, and choose the area to advertise. With Google Ads, you can stay local or go global, reaching Healthcare Professionals from all over the world and providing products and services they are looking for.


Sounds phenomenal, doesn't it? However, despite the endless possibilities and substantial benefits, some advertising restrictions can seriously hinder your marketing work. A significant part of managing successful ad campaigns involves knowing what types of ad content are disallowed and restricted across the social and search advertisement. If you don't pay attention to the Google Ads policies, your meticulously prepared ad will stop running, or, in the worst-case scenario, your account will get suspended, and all your ads will become blocked.


To help you successfully run your advertising campaigns for Medical Devices, we gathered three crucial points to be aware of about how not to get into the trap of Google Ads restrictions.
You cannot take advantage of the health crises
Google highlights the category of "inappropriate content",  describing content and ads which are unacceptable. It is a wide range of cases that might be legal but culturally vulnerable. In the case of Medical Devices, the category of crucial importance is sensitive events.
Sensitive events policy
According to Google, you cannot run ads that:
"potentially profit from or exploit a sensitive event with significant social, cultural, or political impact, such as civil emergencies, natural disasters, public health emergencies, terrorism, and related activities, conflict, or mass acts of violence"[1].


Therefore, "sensitive" are these events that have a considerable cultural, political, and economic influence on the social order, and obviously, COVID-19 falls within the scope of this definition. 
Since March 2020, Google has recognized coronavirus as a sensitive event to protect the good of global health. Since then, it has been introducing more precise policy updates on an ongoing basis. For example, with the shortage of surgical masks for Healthcare Professionals, Google had banned their advertisements for an extensive period. 
As the situation has been unfolding, in March 2021, Google authorized surgical and all other non-N95 (and equivalent) masks. And since August 2021, it is allowed to advertise N95-adjacent masks (KN95, FFP2, and KF94) globally, provided that the "original" N95s are in the U.S. only. However, to prevent counterfeiting, all merchants and suppliers of the mentioned types are obliged to apply for approval before displaying the ads. 


Finally, at the beginning of September 2021, Google has started relaxing restrictions. It allowed more products on Shopping ads and free listings, such as at-home COVID-19 test kits. These, however, have to be previously approved by the FDA or your local governing body (last update: 24.11.2021; check current updates).
In other words, you must not take advantage of sensitive events like a health crisis. Google restricts advertising of products that might be deficient for the demand during turbulent times to prevent global supply shortages and counter the speculative market. More precisely, if you don't want to get your ads suspended, don't use keywords (both on your ad and your platform) that are related to a sensitive event just to boost traffic on your website. 
Given that healthcare professionals, scientists, or medical facilities constitute your target audience, use specialistic language and combine it with a human-level message. Include Evidence-Based Medicine content that will lend credibility to your ads.


You cannot take advantage of someone's poor situation
Google Ads operates on user online behavior to constantly improve your advertising relevance. Meaning, you can better and smoother target your audience when Google gathers and analyzes who searches for what, where, and how. It is a great asset that allows you to display your target ads based on its search, and that would be more than a loss not to capitalize on it.
However, while employing user interest data, it's crucial to handle that information carefully and appropriately. As much as Google Ads offers you a unique opportunity to capitalize on ads, it also aims to protect its users. That's when Sensitive Interest Categories come to play. 
You cannot target users nor promote products or services revolving around sensitive interest categories, as they could negatively impact user experience.
Sensitive interest categories are these types, which could negatively impact a user, including legal restrictions, personal hardships, identity and belief, and sexual interests. When you are falling within this category, you cannot use the following Advertiser-Curated Audiences features:


In other words, aiming to protect the users, Google disallows the use of data that exploits personal struggles, failings, difficulties, health conditions, treatments, or traumatic experiences. Moreover, it dedicates more precise guidelines for the Health sector.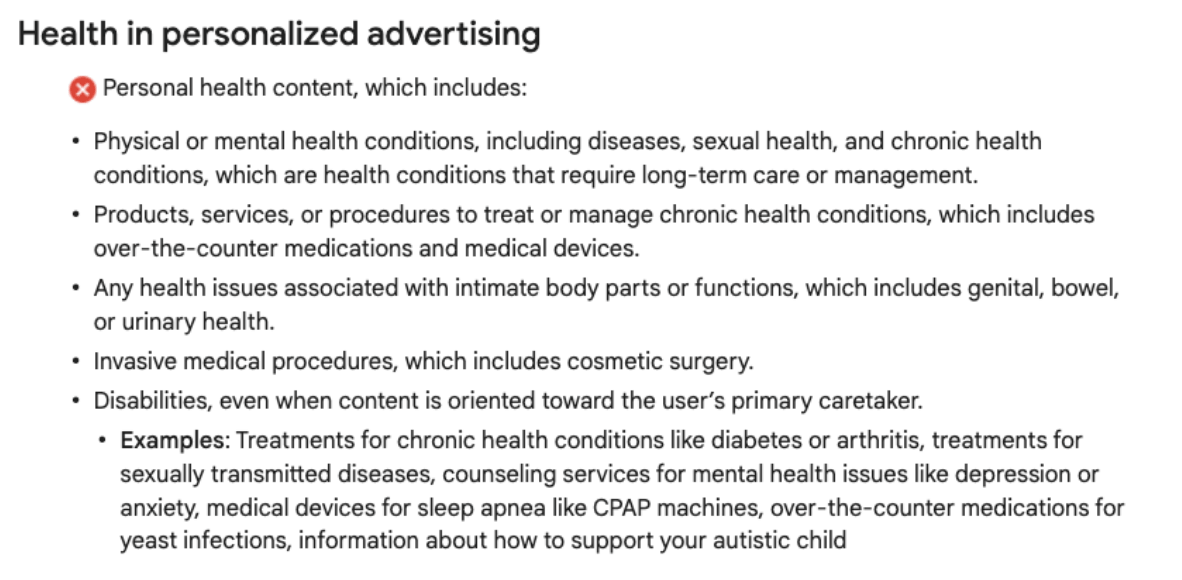 However, even if you're advertising the product or service from this category, you still can use Predefined Google Audiences. So that you're able to use features connected strictly to Google's data:


Is this data sensitive?
Accordingly, Google Ads restrictions serve the purpose of protecting users from exploiting their health conditions, personal hardships, traumas, treatments, etc. Whereas the general Health sector has more precise guidelines, is there any space for Medical Devices?
For instance, advertising Ultrasound Lithotripsy based on remarketing data would be a huge problem while trying to reach patients when it clearly capitalizes on their personal health conditions. But, when you're communicating with Healthcare Professionals and Medical Facilities, you don't exploit their health conditions or the problem of ureteric stones at all.
Consequently, it is possible to advertise your medical device on Google Ads, but you have to follow the Predefined Google Audiences features. As a result, you're reaching your target exactly when they're on the lookout for hardship-related information. Translating into the Google Ads policy language, in this case, you don't take advantage of anyone's personal struggles and remind them about the hurtful event, but rather offer a solution at the point of time when they urgently need it.
The second suggestion is to highlight the target audience you're communicating with. As a medical device advertiser, you need to be clear in your ads that you're reaching out to Healthcare Professionals, not patients. Use professional, expert language. While linking and directing to the landing page, offer valuable, high-quality content based on EBM. However, don't forget about the human side! Combine scientific insight with unique and creative solutions that grab their attention immediately. To read more about high-quality EBM content creation, download our ebook.
Unfortunately, Google doesn't always see the ads the same way you do. There are some inconsistencies that complicate the process. Having said so, sometimes the best way to find out what is and is not allowed is to set up a test campaign and check if it is approved.


You cannot include the unapproved substances
When it comes to Medical Devices marketing, you have a broad spectrum of possibilities to promote your products effectively (have a look at how we did it for EMS). Without a doubt, content marketing is a great way to bring potential leads to your site and improve the quality of your website but step here carefully, because it's easy to get into the trap of another Google Ads limitation.
Google restricts any kind of promotion of certain substances, products, and services related to healthcare. The limitations vary depending on the countries you're targeting [3] and the products you're promoting. Some content, however, is prohibited, regardless of the region you're advertising.
There is an extensive list of unapproved supplements and pharmaceuticals [4] that under no circumstances can be advertised. There are, inter alia, substances related to weight loss, anabolic steroids, or some of the herbal and dietary supplements. But watch your steps here! Even if you barely mention the unapproved supplement in the advertised content, there's a big chance that your website will be suspended or blocked.
Coming back to the Medical Devices content marketing, it is a great opportunity for your business. When you provide high-quality EBM content, preceded by extensive research and succeeded by cross-checks, it's more than likely that you significantly increase website visitors and more efficiently reach your target audience. However, while preparing your series of EBM case studies, it's crucial to keep in mind what can and cannot be included in your texts. Otherwise, it's very simple to get your ads, or even your Google Ads account, suspended. Under no circumstances can you include the unapproved substance in your ad text and landing page. Always check the policies for each region you're advertising.


A solution for your business
The most efficient way to ensure you have a presence on the search engines is with paid advertising. Google Ads gives your business a great opportunity to promote your products whenever you want and target your audience wherever you want. Not to mention the precise measurement of the campaigns' results.
Nonetheless, advertising Medical Devices on Google Ads comes with its own set of challenges. To prevent getting your ad disapproved or your account suspended, scrupulously check the specific rules and restrictions and follow them diligently. Obey the Sensitive Events and Sensitive Interest Categories Policies. Keep in mind the list of unapproved supplements and pharmaceuticals, and remember what not to include in your content.
That would be more than a loss not to take advantage of paid advertising like Google Ads. But, without a doubt, it's easy to get lost in the plethora of restrictions. To market and advertise effectively, you need professionals. Let us improve your digital advertising and help your business grow. Shall we begin?
Inappropriate content, Google Ads Advertising Policy Help, https://support.google.com/adspolicy/answer/6015406?hl=en.
Personal advertising, Google Ads Advertising Policy Help, https://support.google.com/adspolicy/answer/143465#547.
Healthcare & medicines, Google Ads Merchant Center Help, https://support.google.com/merchants/answer/6150151?hl=en#country.
Unapproved pharmaceuticals and supplements, Google Ads Merchant Center Help, https://support.google.com/merchants/answer/6165956#zippy=.