How to capture a doctor's attention on LinkedIn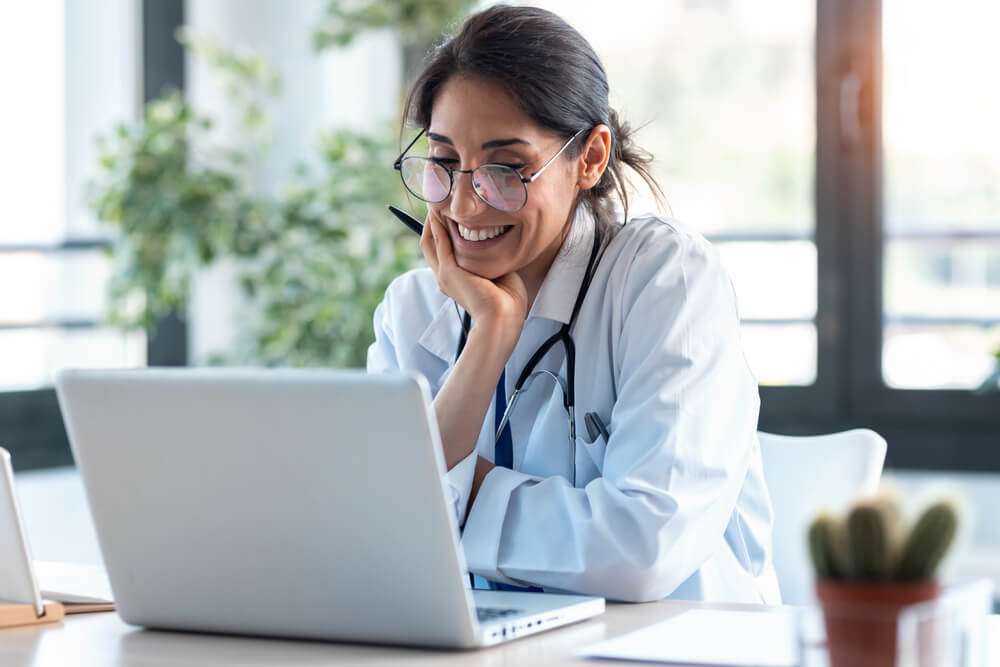 Attracting a medical audience on LinkedIn has its own specifics. What is the right way to catch the physicians' attention and build strong business relations?
Engaging a medical audience on LinkedIn: handy tips to consider
Today, without an online presence, almost all businesses are likely to underperform or, in some cases, fail.  
The Covid-19 pandemic is considered the main reason for the drastic turn toward digitalization, driving businesses to explore online ways to reach their audiences. For this reason, businesses have turned their attention toward social media, among which Meta (prev.Facebook), Instagram, Twitter, and LinkedIn are at the top. With more than 830 million members in 200 countries and regions worldwide [1], the latter has become a common hub for the interaction between companies at the business level. 
65+ million business decision-makers and 58M+ companies listed on LinkedIn [2] have created an outlook base for finding not only partners but expanding their customer base and building a solid profile for their companies... with the right tactics on board, of course.
Healthcare providers on LinkedIn: activity overview
As we know, the medical business has its pitfalls. The healthcare sector is still in a gradual transition to digitalization. Moreover, it is considered a complex industry, so interacting with customers, building business relationships, and nurturing a med business on LinkedIn requires a unique approach, especially with regard to creating marketing strategies. But what about the numbers? Can LinkedIn be considered a powerful tool for attracting a med-related audience?


With its resources and tools, LinkedIn can be the go-to option for healthcare companies, helping you engage, target, and track top priority audiences. 
51% of healthcare providers use social media channels as a marketing tactic [3]. Furthermore, they use LinkedIn more than Facebook in terms of weekly activity. Given the specificity of the medical sector and its long-term presence beyond the social media world, at least "one-time activity per week" on the part of physicians is a positive result on the path to tech advancement. What kind of activity?
According to a survey conducted by the Med Data Group [4], when asked "what are the main reasons for participating on LinkedIn?", 41% of respondents (i.e., physicians) said that they expand their professional network this way. In turn, 28% of them use the channel to enhance their online presence (so other physicians can connect with them) and find valuable information in their field.
Although there is a positive trend toward social network adoption and increasing activity among medical professionals, the issue of their involvement is still critical. However, the problem of audience engagement and even more — retention — is present in any online business. 
Whether you're a healthcare organization, pharmaceutical company, or medical device manufacturer, the importance of attracting a physician audience is indisputable. How do you draw in doctors on LinkedIn?
How to reach a medical audience on LinkedIn?
Tip 1. Make sure your profile is complete
Your business profile is your calling card. That's how it works on all social networks. Thus, the first thing to pay attention to is the attractiveness of your business card.
If an attraction strategy works out well and your profile attracts a doctor, it's important not to "scare off". With a "layman's" profile, you're unlikely to increase your audience and gain the trust of those who visit. Therefore, ask yourself a few basic questions before you decide for sure that your profile is worthy of attention:
Is your profile picture professional?
Is your job description logical and clear? 
Does your banner match your company's visuals, and is it professionally designed?
Does your summary highlight your depth of experience and strengths?
Do you have strong portfolio content that demonstrates your value to potential clients?
Do you update your business profile as you complete projects,learn new skills or gain qualifications?

Taking all these points into account can make your profile more presentable. Consequently, your audience will be more likely to be interested in doing business with you.
Note: If it is a profile of your company, the principle of its design is approximately the same: logo, overview, organization info, and a call-to-action button. All information should be structured and concise to make it easier for new visitors to navigate and understand what value your company can bring them. What's more, сorrectly and fully completed pages get 30% more views per week [5].
Tip 2. Be active
Any social network requires constant involvement with your audience to achieve a high engagement rate. LinkedIn is no exception. Here are some tips on how to effectively engage with your audience:
As a powerful professional networking platform, LinkedIn allows you to join themed groups (e.g. Medical Doctor (MD) Network, Marketing & Networking for Business Professionals & Doctors, etc.). You can also participate in relevant discussions, share your opinions and interact with physicians. By joining health-related groups, you can find medical professionals, decision makers, medical executives, and other HCPs.
If you've already worked with a medical organization or a doctor, why not use testimonials from your satisfied customers to build trust with your public. For example, you can share testimonials on your profile or in your groups.
Stay up-to-date on your profile
Captivating fresh content on your profile page is the key to success! However, it is essential to find a balance between staying relevant and providing too much content that could diminish the interest of your followers or even annoy them. For example, the standard frequency for posting new content is weekly. Indeed, companies that post weekly show a twofold increase in engagement with their content [5].
Here are some key tips on how to keep your profile packed with relevant content:
Given that "Sales" content doesn't usually work well on LinkedIn, try to avoid  content related to descriptions of your services. The key is to stay interesting and involved in what you do. Show that you remain relevant and keep up with the times and events.
LinkedIn users are more attracted to fresh ideas. Publishing thought-provoking content on your company page is one of the most powerful ways to draw in your audience.
Try to post and promote your content unobtrusively, but also share interesting and insightful material from other respected people in the healthcare industry.
Tip 3. Pay attention to visuals
The strategy of "an eye-catching picture first, followed by the engaging text" is also applicable to LinkedIn. Given how a perfectly written text and engaging visuals complement each other, omitting one element of this perfect combination will always diminish the effect of your post.
collages
illustration
1-2 minute videos (preferably with subtitles)
live videos (team moments, workflow, behind-the-scenes processes) 
med-related documents (PDFs, PowerPoints), etc.
Tip 4. Initiate ad campaigns
If you need higher engagement rates, you can set up an ad campaign. For example, LinkedIn allows you to run your ad campaign using Sponsored Content, Message Ads, Dynamic Ads, and Text Ads. You can run and manage ads based on the Campaign Manager — LinkedIn's advertising platform.
Tip 5. Adhere to a policy of respect
It takes years to gain the trust of your audience and co-workers, but you can lose it in the blink of an eye. As trivial as it may sound, in order to strengthen the trust you have gained, it is crucial to stay professional in whatever you do. 
Recommend the work of other professionals in your network, help them gain trust and thus express goodwill among past, present, and future colleagues and the medically-savvy audience. LinkedIn allows you to create a so-called respect policy in the form of recommendations and endorsements.
Conclusion
LinkedIn is first and foremost about professionalism. Engaging your audience is a time-consuming process and, without a well-designed marketing strategy, is unlikely to work 100%. Before setting up a workflow and creating a plan to attract med-related personas, make sure you know exactly who your audience is. Is it general practitioners or niche specialists, or maybe medical graduates or experienced HCPs? Hence, the engagement process can be summarized in the following steps:
Identifying your target audience.
Defining the goal of engagement.
Setting up a profile.
Planning of the marketing campaign according to the allocated budget.
Implementation of the campaign according to the set time frame.
Continuous analysis of the engagement level and making the following informed decisions.
Building a medical content strategy.
Don't overlook the importance of a cohesive team
Whether it's LinkedIn, Facebook, or a blog, expanding and drawing in your audience in contemporary's cluttered media landscape takes a lot of effort. In such conditions, following an omnichannel approach can be a beneficial tactic. 
From creating medically-focused copy to the visual layout of your content, Brandmed, with its MedTech team on board, is what you need to make your business ideas a reality. How about accelerating the transition of medicine to a higher digital level together? Shall we talk?
LinkedIn/About us, https://news.linkedin.com/about-us#Statistics, [last accessed: 17.06.2022].
Ibidem.
Healthcare marketers trend report/How is pharma shifting its marketing budgets, http://media.mmm-online.com/documents/214/healthcare_marketers_trend_rep_53381.pdf, [last accessed: 17.06.2022].
MedData Group/Shares How Physicians Engage on LinkedIn, https://www.meddatagroup.com/wp-content/uploads/MDP_Physician_LinkedIn_Infographic.pdf, [last accessed: 17.06.2022].
LinkedIn/LinkedIn Pages Best Practices, https://business.linkedin.com/marketing-solutions/linkedin-pages/best-practices, [last accessed: 17.06.2022].
LinkedIn/Reach your audience: Targeting on LinkedIn, https://business.linkedin.com/content/dam/me/business/en-us/marketing-solutions/resources/pdfs/linkedin-targeting-playbook-v3.pdf, [last accessed: 17.06.2022].