5 Most Common Google Ads restrictions for Pharma: Everything you need to know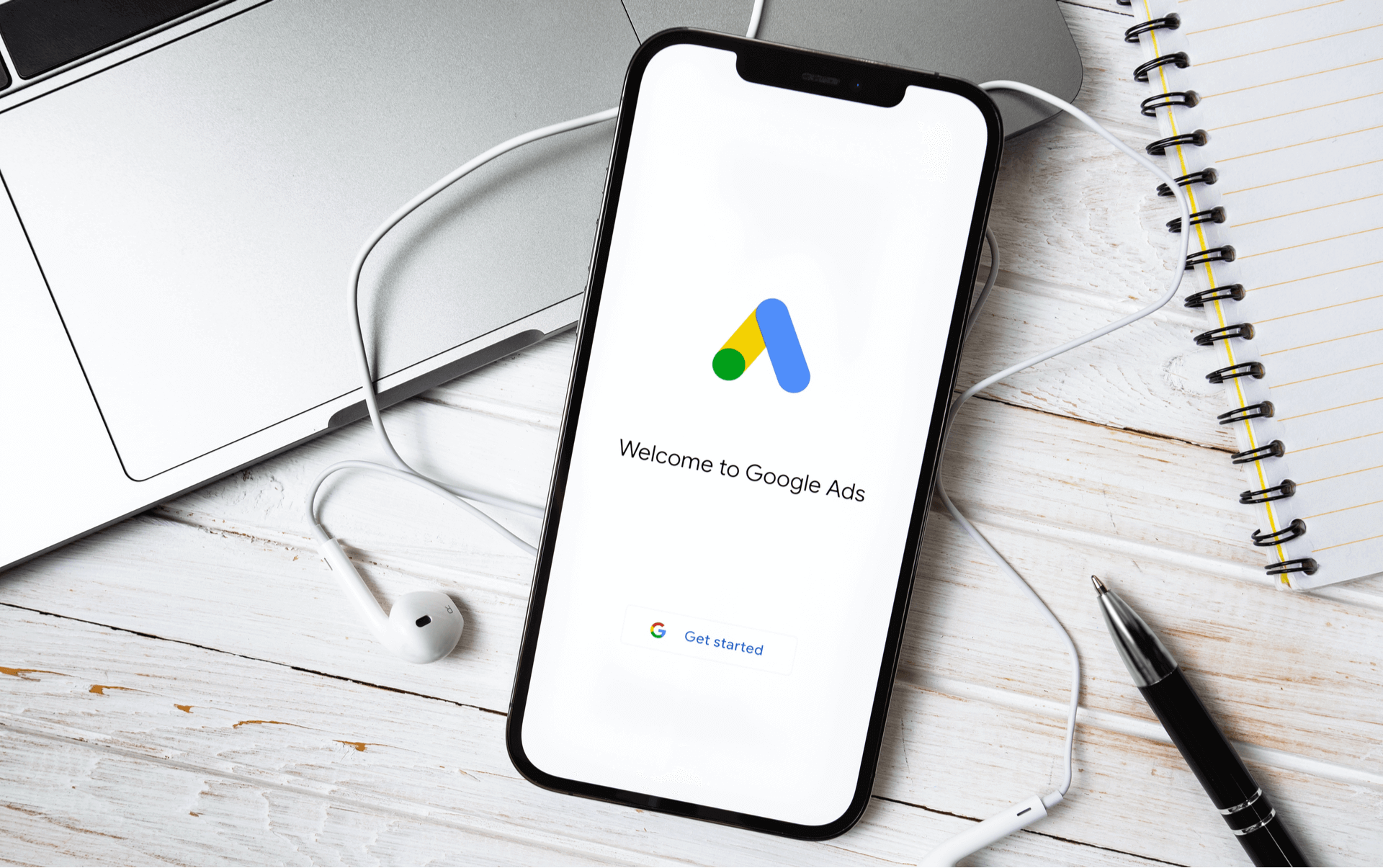 Given that the Pharma sector is subjected to stringent regulations, digital advertising poses a considerable challenge for marketers.
Nonetheless, despite the plethora of laws and specific rules, Google Ads can be an extremely effective tool for the Pharma industry. The crucial thing to know is what ad content may be blocked or restricted and when your account may get suspended. Get your notebooks ready - it's time to dive deep into Google Ads restrictions for Pharma.
Why you cannot afford to ignore Google Ads restrictions?
Navigating Google Ads can be tricky for Pharma brands, but undoubtedly, it is a space worth exploring. Thanks to Google, you can easily reach new customers as they search for words related to your business. In turn, you will boost your products or services sales, raise awareness of your brand and increase traffic to your site. Just select a preferred format, target your audience, and choose the area to advertise. Sounds like a piece of cake, doesn't it? 

Although you can reach any Google searcher, some limitations can significantly hinder your marketing. Meaning, Google Ads has a fairly specific list of broad guidelines regulating healthcare and medicine advertising. Violating them could lead to ad disapproval, account suspension, or even the prohibition to advertise with Google [1].


Thus, knowing what types of ads are disallowed and restricted is a part of successful ad campaigns management. Furthermore, Google won't review the legality of your ad's content before getting your account suspended. Hence, the responsibility falls on you to know, understand and follow applicable regulations. 
1. Apply for certification
First things first, to advertise on Google Ads as a Pharmaceutical manufacturer, you need to apply for certification. It is a short online application form, where you have to include your Google Ads customer ID and fill out all the requested information. Once you're approved, you'll be ready to create your campaign, bearing in mind a few more restrictions.
2. Mind the location and category
With Google Ads, you can stay local or go global while launching your advertising campaign. As much as Google allows you to reach any person connected to the internet, it strongly regulates what pharmaceutical manufacturers can advertise.  Depending on the location and type of product, the restrictions may vary substantially. That being the case, an adequate knowledge of these regulations is of paramount importance. 
Following Google Ads, there are three basic categories concerning Pharma – prescription drugs, over-the-counter medicines, and bulk drug manufacturers and suppliers.
Currently, prescription drugs can be only advertised in three countries - the United States, Canada, and New Zealand, and you cannot advertise opioid painkillers.
Over-the-counter medicines are allowed to advertise in the following countries:
Australia, Austria, Brazil, Canada, China, Czech Republic, France, Germany, Hungary, Hong Kong, India, Italy, Japan, Kenya, Mexico, Netherlands, New Zealand, Norway, The Philippines, Poland, Portugal, Russia, Slovakia, South Korea, Spain, Sweden, United Kingdom, United States.

Bulk drug manufacturers and suppliers can only use Google Ads for pharmaceutical products in Canada and the United States.


Therefore, you can start advertising after gaining the certification. However, you're not allowed to target locations where you are not licensed. In other words, you cannot target locations where your product is forbidden to be promoted, even if the product is allowed in your country. For instance, as a certified pharmaceutical company placed in Canada, you cannot target Sweden to advertise Atorvastatin because the promotion of prescription drugs is prohibited over there.


Keep in mind that each country's law is always superior to Google Ads Policy. Therefore, while advertising, besides checking the country's Google Policy here, you have to also look into the country's official regulations.


3. Unapproved substances
Without a doubt, content marketing is a great way for pharma to bring traffic to your site and improve the quality of your website. What's more, high-quality Evidence-Based content preceded by extensive scientific research allows you not only to reach your target groups more efficiently but also build up trust among them. However, while preparing your ad texts and content, it's crucial to keep in mind what can and cannot be included.
The fact that the advertisement of certain products and services is strictly prohibited is yet another challenge for Pharma marketers. Following Google Ads Policy, you're not allowed to promote content that includes:
"Products that contain ephedra
Products containing human chorionic gonadotropin (hCG) in relation to weight loss or weight control, or when promoted in conjunction with anabolic steroids
Herbal and dietary supplements with active pharmaceutical or dangerous ingredients
Products that imply they are as effective as prescription drugs or controlled substances
Non-government approved products that are marketed in a way that implies that they're safe or effective for use in preventing, curing, or treating a particular disease or ailment
Products that have been subject to any government or regulatory action or warning
Products with names that are confusingly similar to an unapproved pharmaceutical or supplement or controlled substance". [2]
Therefore, before advertising your pharmaceutical product, be sure to check Google's list of unapproved pharmaceuticals and supplements. If your product is on the list, then there's no way around it – you can't advertise on Google Ads. But watch your steps here! These restrictions apply not only to the ad message but, more importantly, to the texts on your landing pages. Therefore, even if you barely mention the unapproved supplement in the advertised content, there's a big chance that your website will be suspended or blocked.


4. Sensitive interest categories
Google Ads operates on user online behavior to help you improve advertising relevance. Meaning, you can better and smoother target your audience when Google gathers and analyzes who searches for what, where, and how. However, some information is considered more sensitive than others, which might significantly influence your marketing job while reaching out to patients and healthcare professionals.

Because personalized advertising employs user data, some information is defined as sensitive, and targeting based on it could negatively impact users. In Google Ads dictionary, it is called Sensitive Interest Categories. It encompasses user data that relates to legal restrictions, personal hardships, identity and belief, and sexual interests. In other words, it includes highly private information or endeavors that nobody wants to enhance through ads.


According to Google, Sensitive Interest Categories are restricted in personalized ads. You cannot use them to target users nor to promote products and services revolving around them, as it could negatively impact user experience [4]. And when your product falls within the Sensitive-category, you cannot use the following Advertiser-Curated Audiences features:
Remarketing lists
Similar audiences
Custom audiences
Customer match [5].
Thus you're not allowed to use tools that are highly valued in modern-day marketing. Given that rarely do people buy a product or leave a lead while entering a website for the first time, remarketing lists significantly increase the likelihood that more users will explore and interact with your page for the second time. In other words, this feature helps you re-find your previous visitors, encourage them to re-visit your page through customized ads, and ultimately, finalize the conversion. Hence, what does it mean for sectors, such as Pharma, that are deprived of using this tool? 

Without a doubt, it is a formidable challenge as you're losing a chance to reach that target audience (i.e. returning users), which would bring the biggest profit. Consequently, when you're not allowed to use tools that let you customize your search ads campaign for people who have previously visited your site, you must take maximum advantage of other features that Google Ads offers. Losing an opportunity to segment our recipients in the terms of engagement (new recipients, uninvolved returning, and involved returning ones) means that Google Ads campaigns have to be perfectly planned, prepared, and tailored to your target audiences. Meaning, it's crucial to recognize and perfectly understand their behavior, demands, and communication styles. In the case of Pharma, you must understand the needs of both healthcare professionals and patients to reach them efficiently through Google Ads campaigns.
Disabling remarketing lists while advertising on Google Ads means that there's no second possibility to encourage patients and doctors to your business, so the first attempt has to be impeccable. To successfully do that, you need professionals that expertise in communication and marketing with healthcare target groups.
To recapitulate, you cannot target users based on data that revolves around Sensitive Interest Categories, which eliminates the possibility of using Advertiser-Curated Audiences, including remarketing lists. Thus, when there's no second chance to reach users that have visited your website, your ads campaign has to be unrivaled in every possible aspect. Moreover, depending on the targeting feature used, you also may not be allowed to promote some ​​particular content restricted by Google, which includes:
"Physical or mental health conditions, including diseases, sexual health, and chronic health conditions, which are health conditions that require long-term care or management. 
Products, services, or procedures to treat or manage chronic health conditions, which include over-the-counter medications and medical devices.
Any health issues associated with intimate body parts or functions, which includes genital, bowel, or urinary health.
Invasive medical procedures, which include cosmetic surgery.
Disabilities, even when content is oriented toward the user's primary caretaker.


With all these strict regulations, is there any space for advertising for Pharma?
Predefined Google audiences
Yes! According to Google, even if you promote products from Sensitive Interest Categories, you can still use Predefined Google Audiences, which do not include sensitive user signals. So that you're able to use features connected strictly to Google's data:


Therefore, you're allowed to target users by employing data related to demographics and locations, even while promoting products and services from Sensitive Interest Categories. For instance, despite the fact that it's forbidden to reach users based on the category "people with depression", you can develop your buyer persona with specific demographic data.
Search campaigns
While Sensitive Interest Categories are a significant hindrance for managing Google Ads campaigns, it's crucial to mention that they are mostly applicable for Display Campaigns. Meaning, you're not allowed to advertise all around the Internet banners based on users' searches and website visits that claim "Are you struggling with Vitamin D deficiency?". However, it's possible to reach people while they're searching on Google for the products and services you offer. For instance, you're allowed to display Vitamin D ad while people are searching for Vitamin D. In Google Ads policy language, in this particular case, you don't take advantage of anyone's poor situation nor remind them about the hurtful event, but rather offer a solution at the point of time when they urgently need it.


Thus, the solution that overcomes this restriction is Search Campaigns. Next to remarketing lists, it is the most promising solution to efficiently reach the target group you've wanted. Not only are you hitting these recipients that are looking for the exact product but also you can advertise without any restrictions connected to Sensitive Events. 
Thus, Search campaigns are the key solution for digital advertising in every sector. Apart from using remarketing lists, it's another powerful tool that you must capitalize on while marketing for Pharma. Products that are revolutionary and nobody searches for them constitute a unique expectation from this rule. For this kind of advertising, we'd certainly recommend you Display Campaigns.


Targeting patients and healthcare professionals
The third aspect is to distinguish your target audiences. Considering Sensitive Interest Categories, it is crucial to highlight that you're reaching either patients or healthcare professionals. 
Essentially, ads targeted to medical practitioners don't exploit their personal hardships. Thus, reaching this audience may be slightly easier for pharmaceutical advertisers, given Sensitive Interest Categories. However, it has to be crystal-clear for Google Ads that you're communicating with them. Tailor your ad's message to the specific needs of healthcare professionals. Use specialist, expert language. While linking and directing to the landing page, offer valuable, high-quality content based on Evidence-Based Medicine. To read more about EBM content creation, download our ebook.
The troubles start when it comes to targeting patients. According to Sensitive Interest Categories, you cannot exploit users' personal hardships, including patients. Therefore, Google will reject your attempt to use remarketing lists or any other feature from Advertiser-Curated Audiences. Even while using Predefined Google Audiences features, watch your steps carefully. Bear in mind particular phrasing is restricted by Google. When your product falls into Sensitive Categories, consider choosing Google Search campaigns instead of Display ones. Apart from remarketing lists, Search campaigns offer the most efficient way to reach Pharma's target audience, concerning they show your product while recipients' are looking for it.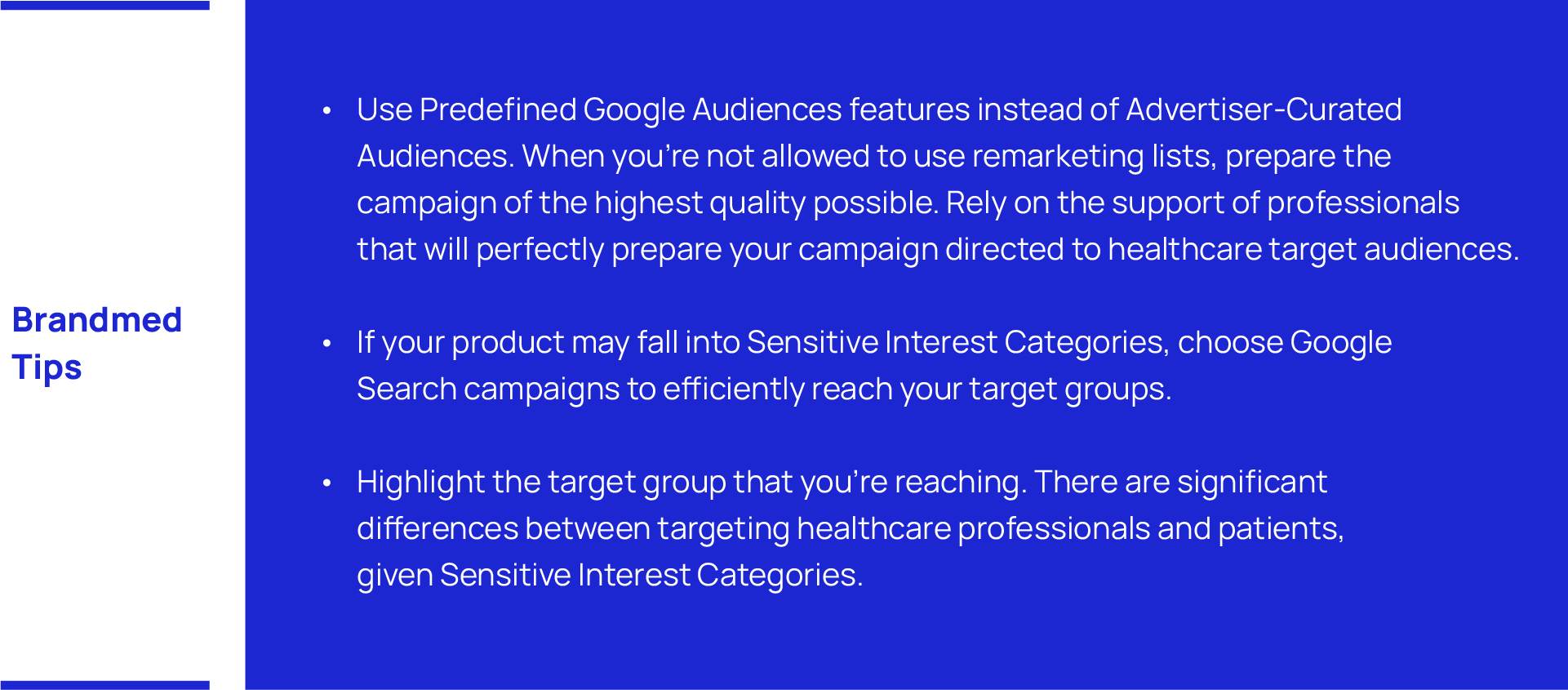 5. Advertising online pharmacies
If you're an online pharmacy, Google will analyze your ad, website, app, landing pages, etc. It looks at your products and services and if they are in line with their policies. 

Consequently, to begin advertising an online pharmacy, you also need to apply for the Google certification. Each store must be registered with the relevant pharmaceutical authorities in the countries that their ad campaign targets [8]. Without it, Google may consider you an unauthorized pharmacy. It might happen in the two cases – both if you are targeting locations where you are not licensed to operate or/and sell a particular product and if you're offering prescription drugs without requiring a prescription.


Additionally, specifically, the promotion of online pharmacies is also restricted. Following Google Ads Policy, it is allowed only in the following countries [9]: 
Australia, Austria, Brazil, Canada, China, Czech Republic, Denmark, Germany, Hong Kong, Israel, Japan, Kenya, Mexico, Netherlands, New Zealand, Norway, Portugal, Russia, Slovakia, Sweden, Taiwan, United Kingdom, and the United States.
And you can promote an online pharmacy with Google Ads, but can't use keywords that relate to prescription drugs [10] only in the following countries: 
Australia, Austria, Canada, Czechia, Denmark, Germany, Israel, Japan, Kenya, New Zealand, Netherlands, Norway, Portugal, Slovakia, United Kingdom, and the United States.

However, more detailed regulations differ from country to country. Thus, be sure to check them out here before advertising. For instance, in Poland Google doesn't allow the promotion of any online pharmacies regardless of whether they offer prescription collection and delivery services.


A solution for your business
Advertising Pharma on Google Ads offers a great chance to promote your products whenever you want and target your audience wherever you want. Not to mention the precise measurements of your results. Nevertheless, Google Ads for Pharma comes with its own set of challenges that you have to face. To prevent ad disapproval or your account suspension, diligently follow the restrictions and limitations we've talked about. Keep in mind which category of medicinal products is allowed in which country, check the list of unapproved substances, take into account Sensitive Interest Categories and make sure that you legally advertise as an online pharmacy.
Although it's easy to get lost in the plethora of restrictions, it would be more than a loss not to take advantage of paid advertising like Google Ads. To attract more traffic, generate new clients, and boost your sales, you need professionals. Let us improve your digital advertising and help your business grow. Shall we begin?let'
1. Healthcare and Medicines, Advertising Policies Help, https://support.google.com/adspolicy/answer/176031?hl=en [last access: 20.01.2022].
2. Ibidem.
3. Ibidem.
4. Personalized advertising, Advertising Policies Help, https://support.google.com/adspolicy/answer/143465#547 [last access: 19.01.2022].
5. Ibidem.
6. Ibidem.
7. Ibidem.
8. Healthcare and Medicines, Advertising Policies Help, https://support.google.com/adspolicy/answer/176031?hl=en [last access: 20.01.2022].
9. Ibidem.
10. Ibidem.