The needs of patients in the tech-age and how to take care of them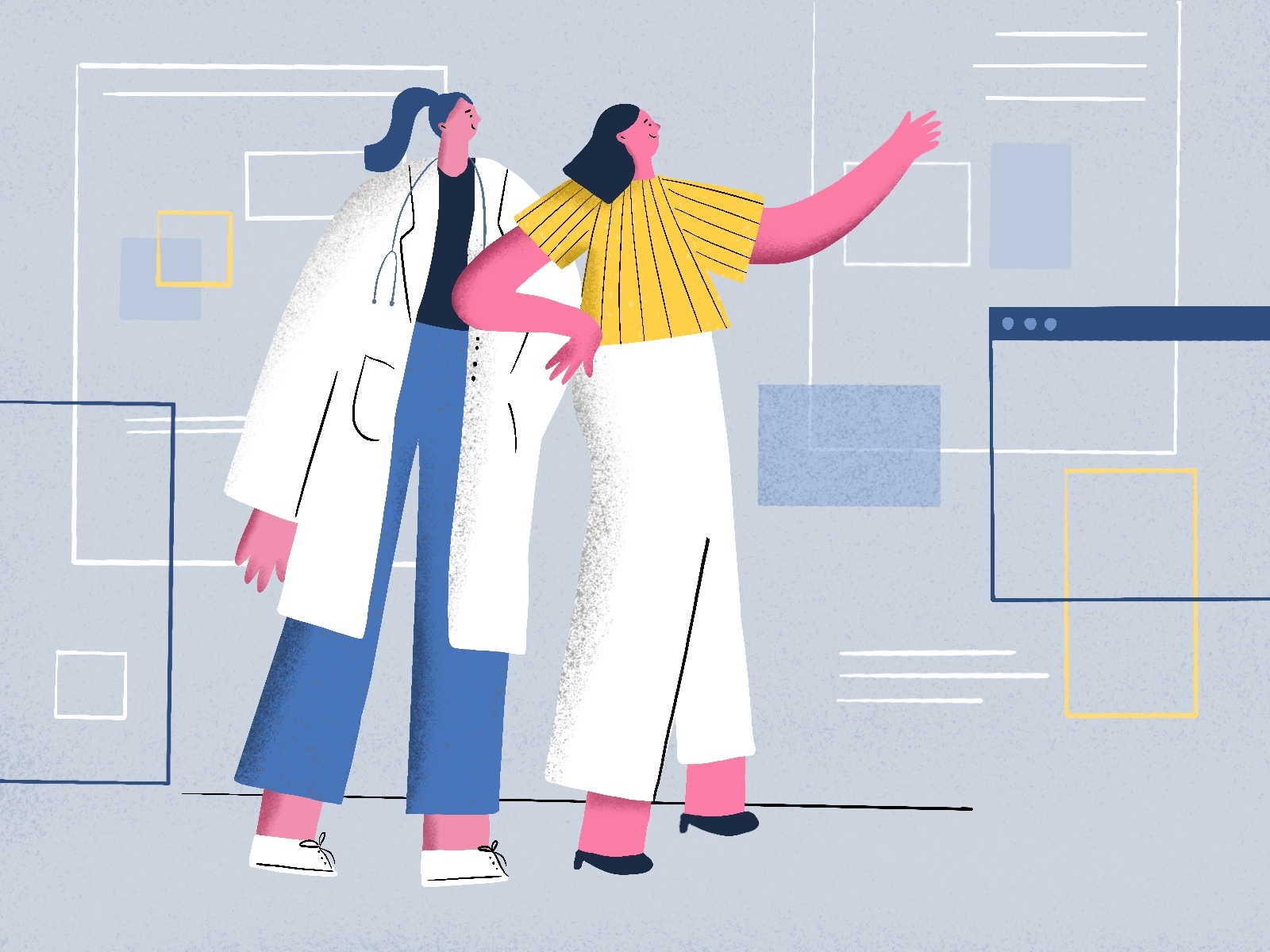 Technological industries have recently joined the ranks of some of the world's largest and fastest-growing sectors.
Technology has the ability to transform medicine completely. In fact, we are already living in a tech-age; the transformation is all around us. What used to feel like a vague image of the future is now an inseparable part of our lives. Technological industries have recently joined the ranks of some of the world's largest and fastest-growing sectors. Importantly, medical technologies are right in the middle of that race. The new reality welcomes us with new possibilities, and we want to apply them to benefit our patients. 
Transforming healthcare 
The Digital Health Tech Vision 2019 report states that 94 % of healthcare executives declare the pace of innovation at their organizations as accelerating over the past three years due to emerging scientific and technological solutions [1]. New technologies, if used correctly, may enable us to treat patients more effectively. The tech-age has the potential to tackle challenges faced by both developed and developing countries in providing accessible, cost-effective, high-quality health care services. Technology is changing medicine in a variety of ways. Utilities such as telemedicine and mHealth as well as new diagnostic and treatment methods are transforming the healthcare industry for providers and patients alike. In light of these changes, even the World Health Organization established the Global Observatory for eHealth (GOP) to review the benefits that technology can bring to health care and patient well-being [2]. Year-to-year, new opportunities are being developed and implemented across the healthcare industry to improve the work of healthcare professionals and benefit the patients. While it is important to keep developing and implementing novel tools, this constant change does not come without challenges. One of the biggest obstacles and rate-limiting steps to rapid adaptation of even the best new technologies is the speed with which the end-users, our patients, can become familiar and comfortable with the latest tech, service or method.
Know your patients, know your possibilities 
When evaluating the usefulness of any new medical technology in the 21st century, we should carefully consider and analyze our target groups.

According to the Department of Commerce Economics and Statistics Administration in the U.S., the ratio of people 65 and older to every 100 people of traditional working ages is projected to climb from 22 in 2010 to 35 in 2030 [3]. These predictions pose an important question: how will we provide them with the best medical care and preserve their high quality of life without overwhelming them with the complex new tech, especially since they will be the main beneficiaries of rapidly advancing medical solutions?

For most of us, it is evident that younger generations are familiar with the blessings of technology. They were born in this era, so they don't have to adapt as they know it inside out. They live and breathe the Internet. What about the elderly? According to the Pew Research Center, 59 % of seniors report using the Internet. Despite these gains, they continue to lag behind younger generations when it comes to tech adaptation: 41 % do not use the Internet at all and 23% do not use cell phones [4]. Considering the still high numbers of technology distrust among the elders, we must be mindful of the fact that they will need more support while transitioning to the telemedical world. Only as we build this trust can we ensure they are not left behind and actively participate in adapting to the medical tech-age.
Tech-age: new tools, old problems
Together with technological progress comes the hope of solving some of the biggest problems humanity has been facing for centuries. However, at the same time, and as stated above, rapid technological advancements can overwhelm people and get them confused in a new environment. Healthcare professionals have been trying to gain patients' trust in Evidence-Based Medicine (EBM) for years. Even though EBM is the key to proper diagnosis and treatment, it faces significant doubts from people worldwide– globally, 33% of people did not trust their healthcare as of 2018 [5]. The COVID-19 pandemic did not help the matter, with many misleading and confusing data circulating. Despite obstacles, the tech-age continues to advance, especially now, when many of our medical appointments are taking place using new technologies. Changes such as fewer face-to-face interactions and fewer ambulatory visits and treatments may leave our patients feeling marginalized and even neglected and increase the distrust in health care, which the industry has been working so hard to improve. Such methods may seem to oppose the therapeutic patient-centered care that providers have been advocating for because it gives the best clinical results. 
Patient-centered care 
A decreased familiarity with technology may limit the potential impact of technology-based interventions among patients of all ages. As health care providers, who understand the science behind these medical innovations and want to provide our patients with the best care possible, we should make an effort to change patients' approach to the new technologies, especially if patients experience fear or apprehension towards them. We are the future of healthcare progress and adaptation, and we must keep the idea of humanizing healthcare as one of our top priorities. Empathy will need to be our guide as we navigate healthcare's digital future.
Technology adoption
Sometimes patients' hesitation comes from the lack of comfort or confidence in using devices crucial for their treatment. Discomfort arises from fear of doing something wrong, breaking the device, or not understanding its use and purpose. It may seem simple for healthcare providers as they work with and test new technologies daily, but we must be conscious that it is not intuitive and straightforward for first-time users. By recalling your first time with the device, it might be easier to sympathize with the anxious patient in front of you.
Educating on new technology
Well-informed patients, educated about their condition, and involved in health care decisions have greater satisfaction of care and tend to have better outcomes [6]. Provide your patient with information about every possible treatment option, highlight the advantages of the new technology, and show how it might help them get better results. Demonstrate that you know what you are doing and educate them that it might be beneficial to try the new device, especially if they are the perfect candidate for it. 
Creating friendly technology
For those who work to develop new technology –  imagine a patient for whom you are creating your tools. The needs are different depending on the patient's age, knowledge, and disease. You have to be prepared for it, and so should be your design. While younger patients line up for the newest medical gadgets, most elders, if they do at all, wish for technology that is easy to use. 
Supporting patients with technology
Trust is the main goal you should strive for in a good patient-healthcare provider relationship. Patients look for answers about their condition and just want to be healthy. Setting patients up with some new technology and sending them out the door may not get you there. Comforting them by explaining that you are on their side and they can rely on you for questions or concerns about the new device most certainly will. New technology may and will help you, but you shouldn't forget about just supporting your patient during the road to recovery by showing the opportunities tech-age has given us.
The future starts today 
Tech-age brings excitement and hope to the world of medicine. It foreshadows a better tomorrow for many untreated diseases and allows access to a medical appointment in situations like the one we continue to experience today. However, it is not tomorrow we are living in. Today we should meet our patients' needs by providing them with knowledge about new technology they can use to treat their condition better. Today, we should prepare them for tomorrow's opportunities by educating them about the tech-age advantages. Today we should make sure they feel safe and ready for this digital era. In the end, trust is the key to success. 
Digital Health Tech Vision 2019, https://www.accenture.com/us-en/insights/health/digital-health-tech-vision-2019 (last accessed 6.03..2021)
WHO, Telemedicine: opportunities and developments in Member States: report on the second global survey on eHealth, 2009.
U.S. Census Bureau. THE NEXT FOUR DECADES The Older Population in the United States: 2010 to 2050. U.S. Department of Commerce Economics and Statistics Administration; 2010.
Smith A. Pew Research Center; 2014. Apr 3, Older Adults and Technology Use.
https://www.statista.com/statistics/1071027/trust-levels-towards-healthcare-in-select-countries/ (last accessed 6.03.2021)
Committee on the Learning Health Care System in America; Institute of Medicine. Best Care at Lower Cost: The Path to Continuously Learning Health Care in America. Smith M, Saunders R, Stuckhardt L, McGinnis JM, editors. Washington (DC): National Academies Press (US); 2013 May 10. PMID: 24901184.