Healthcare UX challenges: apps for doctors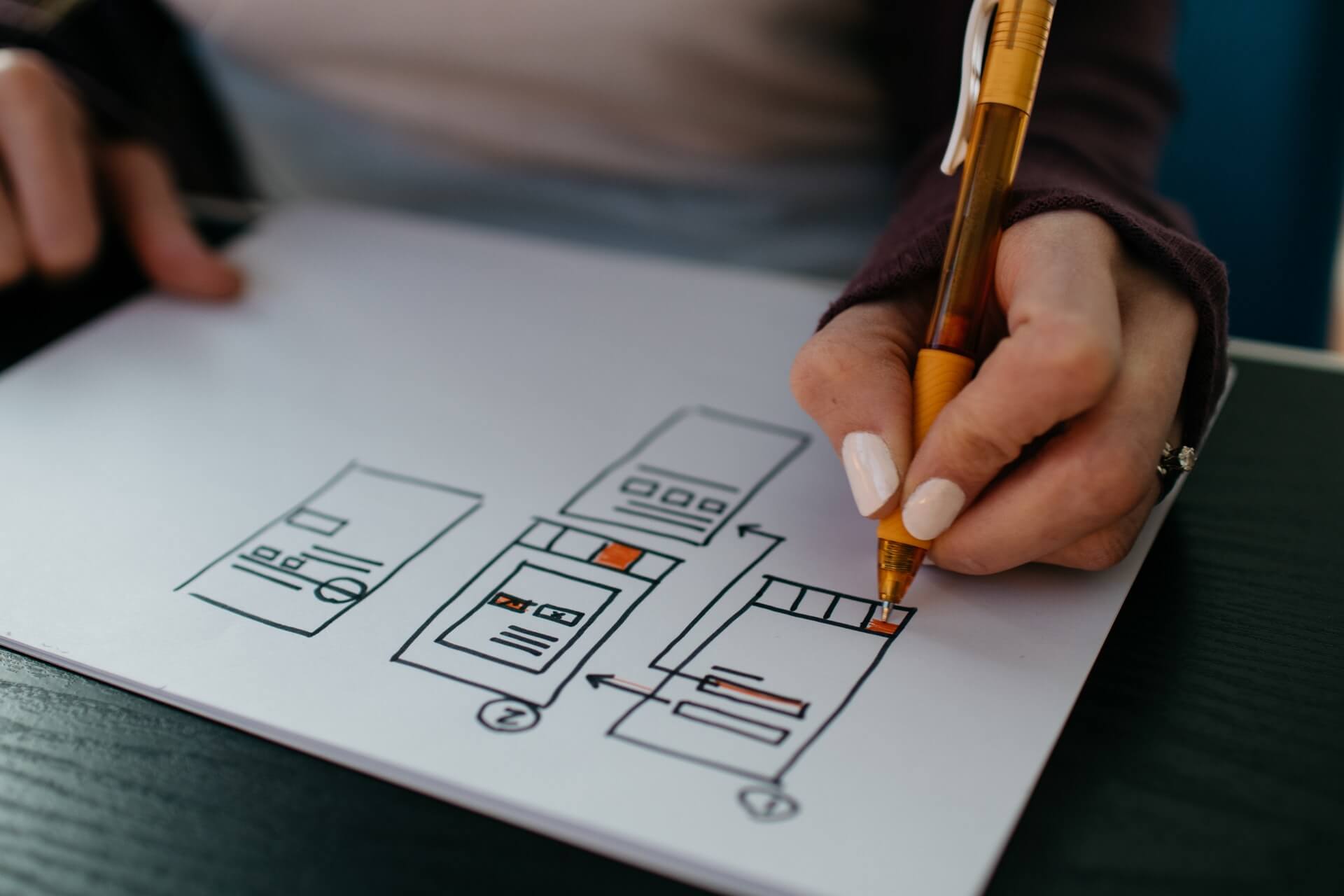 Find out more about the obstacles designers face when developing a digital health solution, as well as examples of apps for doctors with thoughtful UX design.
Healthcare UX challenges
On average, for every $1 spent on site UX, the return on investment can be up to $100 [1]. However, this estimate is more typical for digital businesses that have nothing to do with medicine. The healthcare sector, on the other hand, has a very different picture.
Despite the significant step toward digitalization that medicine has made in the last two years, the importance of UX design is still underestimated. There is an explanation for this... Given the complexity and specificity of the medical sector, most companies tend to close the technical issue first, while taking into account all the regulatory issues regarding the confidentiality of medical data. They simply don't take UX seriously and often give it second place. As a result, physicians spend half their time in front of a screen, performing electronic tasks and figuring out how technology works [2], with less time devoted to the patients themselves.
The programs doctors work with are often cumbersome and crammed with many functions and, more importantly, not all users can quickly understand how they work. As a result, doctors get annoyed and deny the adoption of technology in their practice. It's not their fault.
Sticking to the "quick and cheap" strategy can simply turn out to be a flop for your project.
To help medical staff with their daily tasks and ensure a pleasant experience with an app, developing a thoughtful UX design can be a great idea to kick off your project.
However, even if a company devotes enough time to interaction design, there are some medical-specific challenges that designers have to face. What are these hurdles and are there examples of worthy products with sophisticated UX? Let's go over everything in order!
Top healthcare UX challenges
#1 Difficult to test
The thing is that it is much easier to organize the participation of ordinary users for usability testing than to involve doctors. Bureaucracy, legal issues, and doctors' crammed schedules are among the main obstacles to making testing happen. Therefore, companies are often more focused on testing the functionality of the solution while paying less attention to usability testing (or ignoring it at all).
However, it is better to spend more time and, if necessary, money on attracting end users to the product to make it fully functional yet easy to use. Otherwise, you may spend even more time and money on fixing UX-related problems in the future or come up with a non-viable product altogether.
#2 Legal issues and data confidentiality
One of the biggest obstacles in designing a solution is bureaucratic and legal issues. Regulations and restrictions that vary from country to country, to which digital health products are subjected, often cause limitations in the app design itself. The UX can also suffer from this, depriving a final product of its full potential. 
Take, for example, the EHR, a system used to search for information, simplify, and optimize patient care based on previously documented data. However, the limitations of dealing with confidential medical data can be a problem in delivering a user-friendly system.
#3 Today's rapid growth of the healthcare sector
Despite the relatively slow development of medical products compared to other industries, the digital health sector itself is evolving at a rapid pace. New diseases and treatments, new approaches to patient care, and new benchmarks are emerging. As a result, a perceived lack of digital products to meet the needs of both HCPs and patients has led to increased competition in the marketplace. This, in turn, forces companies to act in a tried-and-true way: the one who delivers the needed application first is the winner. Therefore, in the pursuit of speed, businesses can leave the in-depth study of user interaction an afterthought. The quality of the product arouses in the long run, although speed is important at first. However, in the end, a high-quality and well-thought-out solution design can save someone's life...
Despite the obstacles, the market has solutions that doctors may find both useful and ​​pleasant to handle. Here are some of them.
Weave: doctor-doctor and doctor-patient communication

The solution [5] is designed for seamless mobile communication with the medical team and with patients. The product also has several additional features. For example, online scheduling and analytics make it a single unified platform on which doctors can more effectively communicate and interact with both their patients and each other.
VisualDX: clinical decision-making support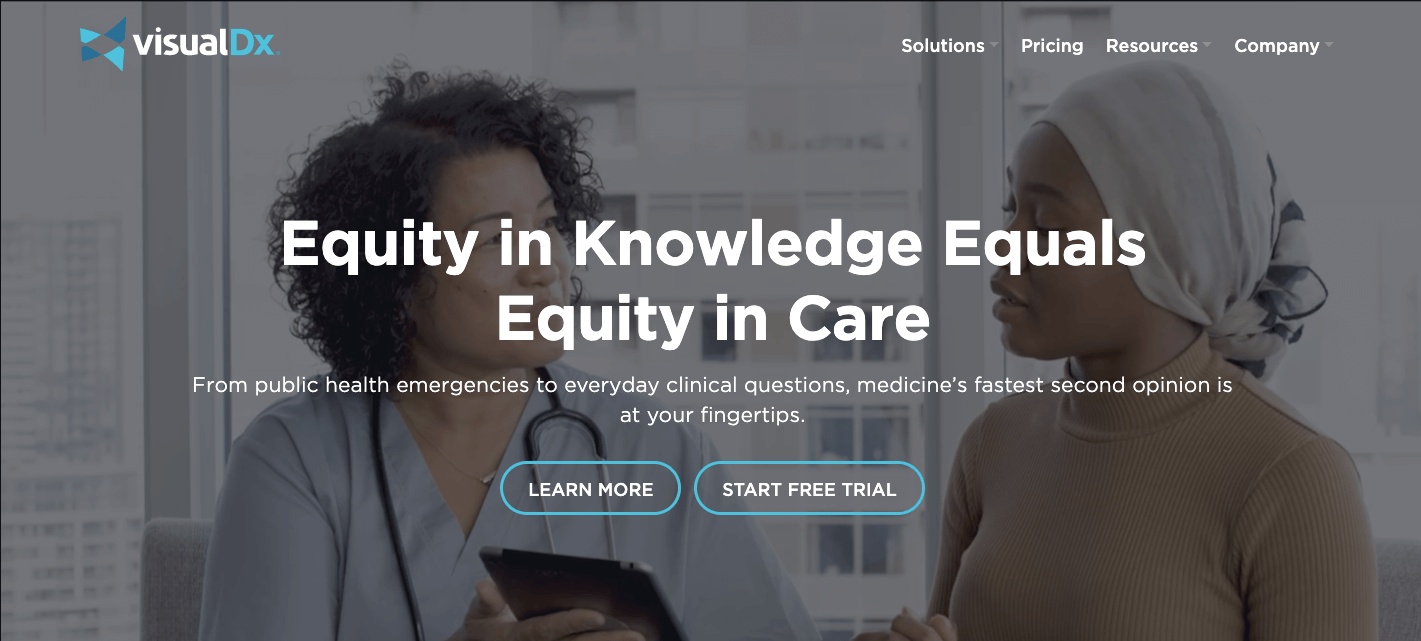 As stated by the system's developers, VisualDX is an award-winning diagnostic clinical decision support system applied in more than 2,300 hospitals [6]. The product is tailored to assist HCPs with diagnostic accuracy, therapeutic decision-making, and patient safety improvement. VisualDX combines an extensive base of med-oriented images and an ML system to help doctors identify and treat skin diseases.
To download an app on a mobile, a user needs to purchase a subscription.
Doximity: cross-platform doctor-patient communication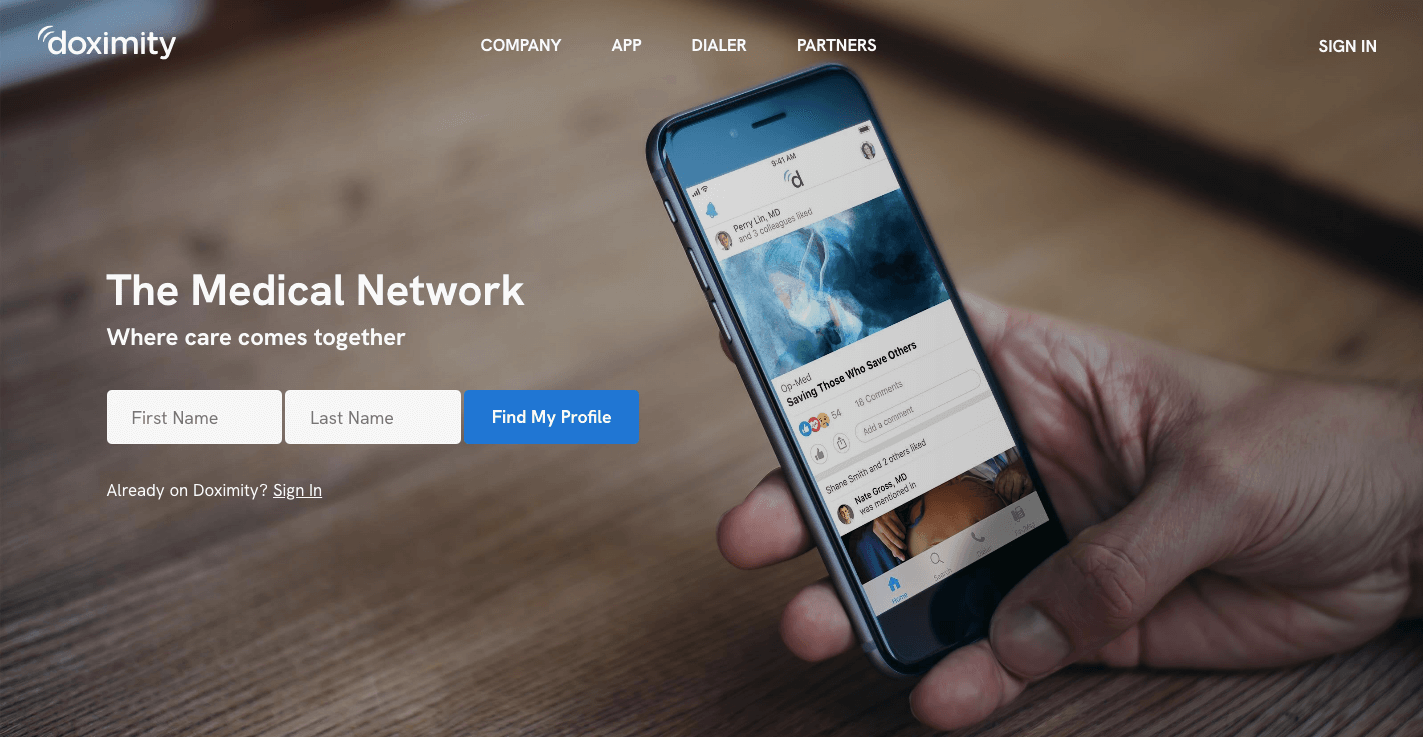 The app [7] is primarily designed for video and voice calls between doctors and patients. Also, the product acts as a simple and secure connector between doctors. The app is easy to use without requiring patients to install it or create an account.
What are the top 10 best doctor-patient communication apps? Feel free to check out the guide prepared by our team.
Extra points to consider when dealing with healthcare UX design:
Often, medical applications need to interact with other systems based on different technologies, further complicating UX design engineering.
Digital health products can serve people of different ages. This is why it is desirable to adhere to a UX design that is acceptable to both older and younger people.
Healthcare systems are teeming with outdated systems that are trusted on top of everything else. It will take a long time to gain the trust of users with a new system, even with a great interaction design.
Data security is an important aspect of interaction design.
The right team — higher odds of success
With the incredible amount of confidential data, legal regulations, and complexity of systems used in such a meticulous domain as healthcare — UX design may not seem like the highest priority beacon. However, we, at Brandmed, believe that delivering a fully functional yet pleasant product for users of all ages is more than likely. The key is to have a team whose members follow the same benchmark. 
Our MedTech team, from developers to designers and content makers with a medical background, can help you develop a human-centric UX solution. Contact us to discuss the details.
References:
Finances online, Web&UX design statistics, https://financesonline.com/web-ux-design-statistics/, [last accessed: 21.07.2022].
The New Yorker, Why Doctors Hate Their Computers, https://www.newyorker.com/magazine/2018/11/12/why-doctors-hate-their-computers, [last accessed: 21.07.2022].
Daniel Burka, https://danielburka.com/, [last accessed: 21.07.2022].
Good Reads, Alan Cooper, www.goodreads.com/author/quotes/16770.Alan_Cooper , [last accessed: 21.07.2022].
Weave, https://www.getweave.com/, [last accessed: 21.07.2022].
VisualDx, https://www.visualdx.com/, [last accessed: 21.07.2022].
Doximity, https://www.doximity.com/, [last accessed: 21.07.2022].
Google, UX Playbook for Healthcare, https://services.google.com/fh/files/events/pdf_auto_healthcare_playbook.pdf, [last accessed: 21.07.2022].