How illustrations can simplify medical subjects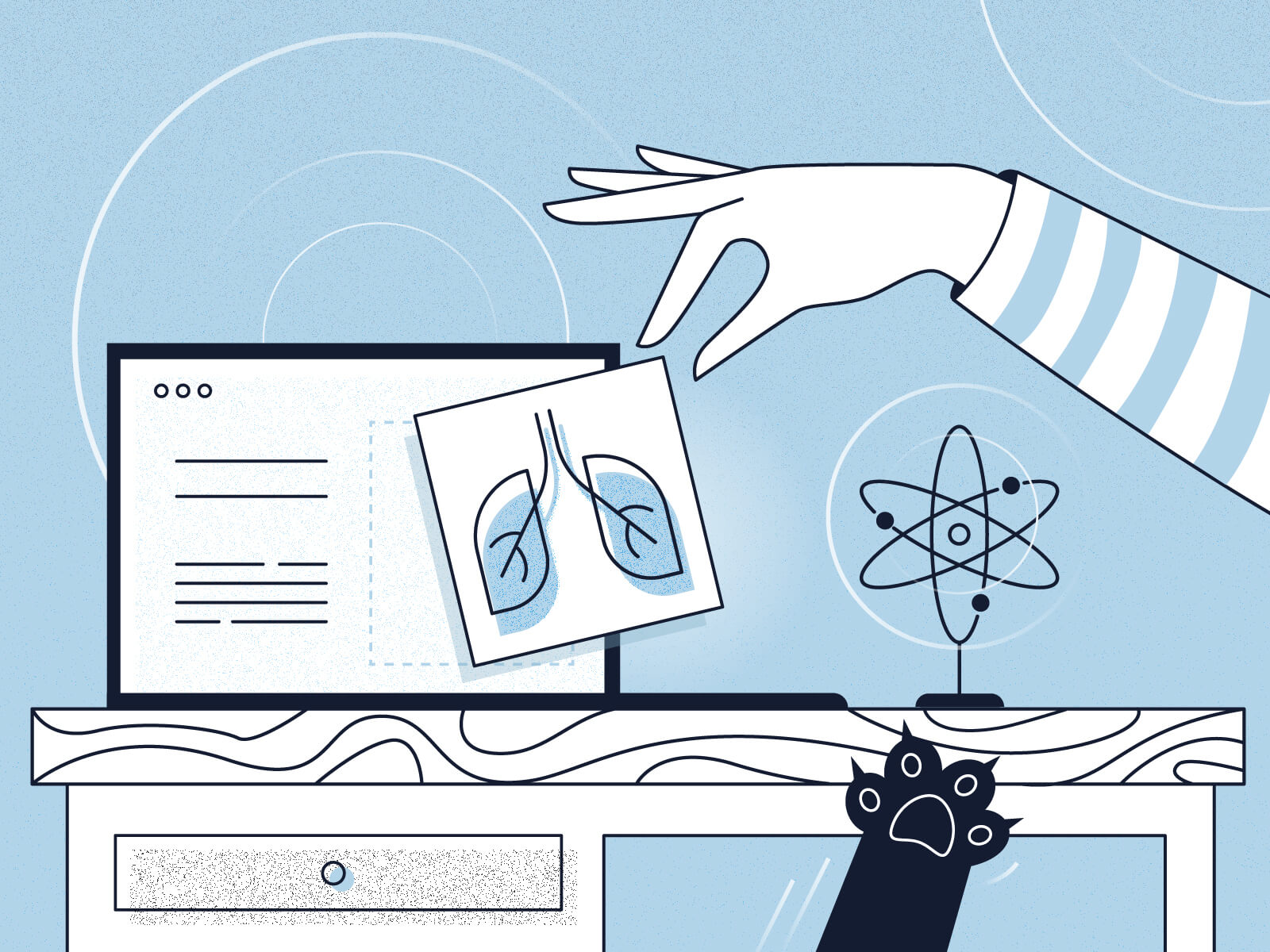 As the medical field develops rapidly, it has become increasingly difficult to catch viewers' attention and make your point stand out.
How can you simplify medical issues and make them more memorable? This is where illustrations come into play!
"A picture is worth a thousand words"- visual learning
About sixty-five percent of the population are visual learners [1], and graphics are crucial in catching their attention. Visual stimuli work better to convey your message than a thousand-word whitepaper or a lengthy audio call. Moreover, it has been discovered that to make a lasting impact on any learner, it is necessary to pair abstract concepts with powerful images. One study found that after three days, people remember only 10 to 20 percent of the written or spoken information, as opposed to almost 65 percent of the visual content [2]. That is explained by the fact that graphics are processed by the brain faster and more efficiently than text and are more easily stored in long-term memory. Visuals help to stimulate imagination and create easy-to-access associations between graphics and abstract ideas. Activating the brain with visuals improves comprehension and organization of issues and allows for the synthesis of abundant information. Visuals can also cause a stronger, faster and lasting impact by evoking emotions, which in turn reinforce information storage. Thus, the titular saying, "a picture is worth a thousand words," should be something to bear in mind while trying to reach a broad audience and make a lasting impact. 
The power of illustration
A visual depiction of an abstract idea or a complex problem plays a significant role in making it more accessible and understandable. However, there are many forms of visual communication, such as pictures, videos, or graphs. Where do illustrations fit and why are they so powerful? 
Above all, they are easily adaptable and versatile. Unlike photographs or videos, illustrations are made from scratch; hence they can be molded into whatever the author's imagination and aim are. They allow the reality and abstract concepts to merge, presenting the viewer with a ready-to-go mesh of easily comprehensible information. "They have a power to convey anything and everything" [3]. 

Moreover, illustrations convey complex ideas accurately and can be designed to match a certain mood, style, and theme, influencing the viewers' emotions and thought processes. Color, texture, and lines are subtle yet essential means of influencing the brain, making the message more memorable and impactful. Illustrations can be adapted to portray the message you are trying to convey, but they can also be designed to fit your brand's individual style.  They can be used to simplify an issue while maintaining your unique aesthetic.
Medical topics illustrated
The question arises: do illustrations have a place in medicine? How can we simplify medical issues by using visuals and graphics?
In the field of medicine, now developing as rapidly as ever, making a fast and lasting impression is the key to success. Doctors and researchers are bombarded with information, new developments, and many statistics, data, and news. Visual stimulation is necessary to capture their attention and make a subject matter stand out from the multitude of content! Illustrations are an excellent substitute for traditional icons in mobile applications and computer websites. If they are distinctive and easy to spot, doctors are more likely to reach for them in a clinical setting, where time is of the essence. Whether it is a simple graph or a complicated animation, they can be used to catch the viewer's eye fast and make your message and your brand comprehensible and memorable. 
Attracting one's attention is only the beginning of how you can use illustrations to your advantage. They are useful in a multitude of ways. One of them is onboarding, a process that simplifies and helps new users get acquainted with your application. Thanks to graphic design, you can provide clear instructions and highlight the app's key benefits and features. A well-designed onboarding is crucial in making the user understand how to use the program's tools and navigate them proficiently. This is particularly important if you want to reach the medical community. It is essential that applications for doctors are intuitive and their use well explained, providing them with tools that help with complicated medical issues and work overload. 
Illustrations can also be included in traditional websites, guiding the viewer through diverse forms and questionnaires. They are more likely to be fully completed if the instructions and accompanying graphic design are clear and easily comprehensible. Illustrations are also useful in depicting and explaining processes in an intelligible and straightforward manner. They might show how to administer medication step by step or illustrate how a specific substance works. Intricate and vast topics such as drug interactions or side effects can be simplified if presented in the form of a graphic. Making your product user-friendly is the key to success. 

To make a lasting impression and attract a faithful audience, you must build your brand's identity. This is where illustrations come to aid. Customize your content's visual design to suit your unique style and the style of your target audience. By creating illustrations that consistently represent your brand, you stand out and build a lasting relationship with the audience. Graphics are also an excellent way of making your message spread on social media. Thus, if you want to reach the new generation of digital doctors and grow your platform, you cannot afford not to use visuals!
So… let's get started!