5 easy ways to simplify complex medical concepts using great design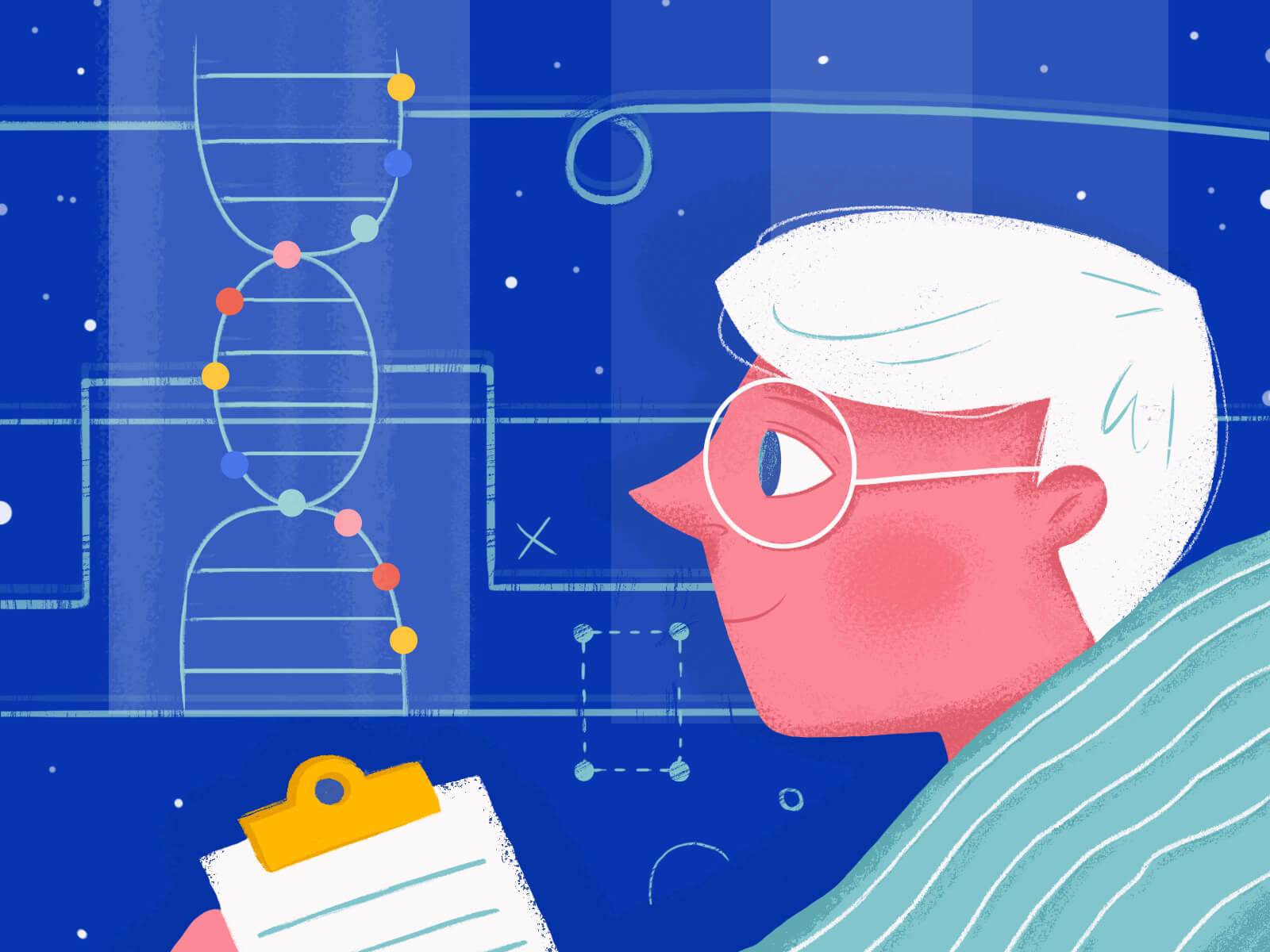 The question is – how to do it right? How to make your medical design visible and eye-catching? Let's look at some tips.
The use of graphic and visual design has found its permanent place in many industries. Some embraced the new tools and benefited greatly; others are still trying to figure out the best way to use them.
While the world of medicine has relied on diagrams and schematics for centuries, the much-needed visual overhaul begun to happen only recently. The implementation of novel visualization techniques to illustrate complex concepts found its use in medicine, where explaining evermore difficult ideas is of utmost importance. And since we are much more susceptible to visuals than other forms of input, like text or sound [7], the use of creative visuals in medicine was only a matter of time. Knowing how responsive to optical stimulation people are, no medical brand can afford to miss the benefits of modern, visual-message-based communication with their target recipients, be that doctors, nurses, patients, students and others.
During the era of social media, the key to running a medical business is to turn it digital. Once digitalized, the number of options to help our customers understand complex medical processes or intricate designs of our product or service expands rapidly. Professional graphic designs and illustrations help us understand difficult concepts better and faster. There is no doubt that the visual side of medical concepts is crucial to make the content clear and memorizable. The question is – how to do it right? How to make your medical design visible and eye-catching? Let's look at some tips.
Eye-catching visual materials
"Art has always helped solve communication dilemmas in medical education" [5]. While it all begun with learning anatomy [5], graphs and diagrams have been an inseparable part of a much broader world of medicine, supporting fields such as biochemistry, physiology, internal medicine, pharmacy, and many others.
Illustrations play a crucial role in medical communication. They improve the likelihood and potential of reaching more audiences with healthcare content that can be understood and remembered quicker than written information [6].
More than ever, we experience our world through images – a brand's design must embrace this reality. Thus, the design of many digital visuals must incorporate the idea that these creations can no longer be supplementary to the text. They must become stand-alone elements of equal merit and importance to the entire content. 
Well-designed visuals present concepts vividly. They are easily comprehendible for viewers without their need to read accompanying blocks of text [1]. However, illustrations should complete the text [4], showing elements of the message beyond those described with words.
Content adjusted to a customer
As highlighted before, digital medical information encompasses many target groups – people from the medical environment include doctors, nurses, pharmacists, students, patients, payers, and many other healthcare professionals [6]. We should customize the illustration design to ensure that each type of content reaches its target recipients physically (or digitally) and meritoriously. After all, we'd use some visual aids to present educational materials to general practitioners and others to explain mechanisms of drugs to a potential patient, wouldn't we? All in all, the brand design must captivate the users; it must stimulate mind associations, surprise, or humor the recipient. We can achieve this aim by creating cartoon-like graphics. An example of this approach was used in visuals made for the British Heart Foundation about the impact of diabetes on our bodies [3]. Let your viewers be astonished! These kinds of methods will make your brand content more appealing to potential customers.
Loud and clear
We already know – it's essential to keep the graphic materials visually attractive for customers. Visuals should be user-friendly; for example, we can improve engagement using consistent and appropriate font size and style [7]. We can also evoke abstract thinking through well-composed graphs and improve content transfer by making it easy to understand and remember. Substantial data support the concept of visuals being 'a powerful learning tool' [2]. People have much better results in self-expressing processes and mechanisms when they've been explained to them with graphic materials [2]. Moreover, the proper selection of colors may help convey information; contrasting, bright shades are catchy and make the content more memorable, which is crucial when highlighting or emphasizing an essential part of the message [7].  The psychological association of colors with emotions is also beneficial [7].
Not only illustrations - when IT meets medicine
In what other ways can we improve our communication with customers and users? An intriguing option is 3D visualizations. With the illusion of the real world, they stimulate our imagination, turning intricate medical issues into simple, understandable concepts [3]. Furthermore, artificial intelligence is dynamically stepping into the world of design and medicine. Illustrations created with AI are directly and entirely customized for user needs [8]. According to new trends in design, digital solutions combining sensual experiences, like smell or taste, are being developed rapidly [8]. While still in experimental stages, an example of a digital sensory design is a digital smell technology creating "virtual smells," for instance, minty or fruity [8]. 
We can't talk about simplifying medical issues without mentioning med-apps. Apps can solve many difficulties frequently associated with education and comprehension of medical concepts. These visually attractive, interactive tools, delivered to our personal digital devices, could be used to study at any time or place. What's more, sometimes they demand active user involvement, making learning more effective [9].
Importance of professionalism
Nowadays, we're becoming more aware of how important it is to entrust a job to the right hands. To win in the new healthcare space driven by data and technology, you need professionals. These experienced individuals are well-versed in the multiple subjects relevant to the medical world and up-to-speed with the latest trends and technologies in data processing, visualization and presentation. Only then can you ensure that your vision withstands current and future market pressures.
Are you running a medical business? Do you want to ensure your online materials are visible and understandable? Do you feel lost in the labyrinth of suggestions and trends? If you are looking for professional help for your brand, look no further. Let us help you improve communication with your audience. Step into a bright future by making your content engaging and visually stimulating.