Why choosing a regular software house is not enough in the medical industry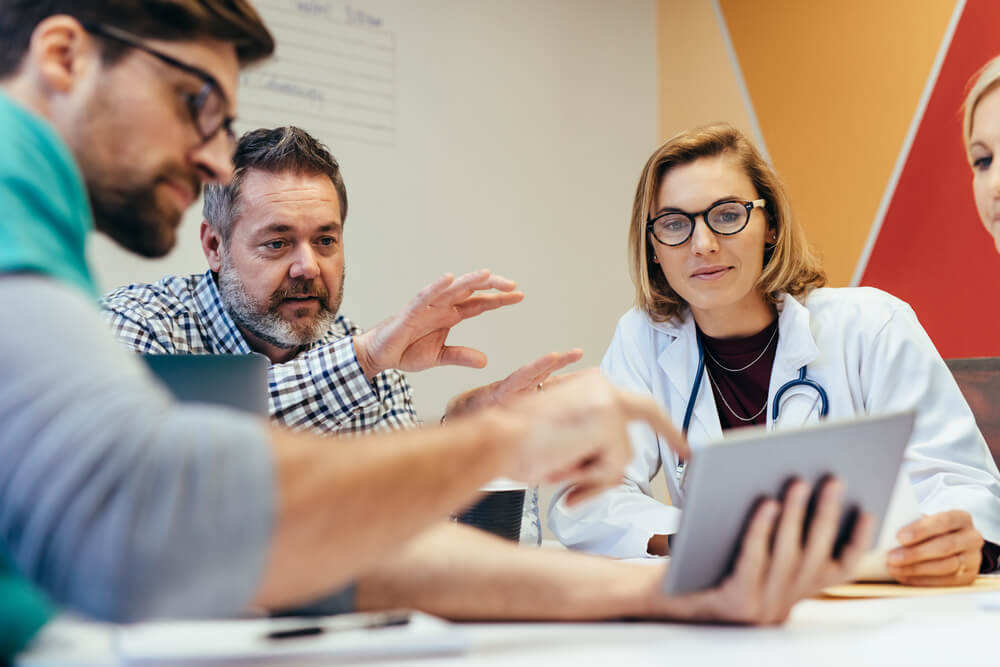 The help of specialists with medical backgrounds turns out to be crucial for digital healthcare success.
Pharma product creation requires a med-oriented software agency
The future of the healthcare sector is prevention and early treatment rather than symptom management, according to Deloitte's 2022 Global Health Care Outlook report [1].
Medical companies are intensively developing software to support these ambitious goals. Already available mobile and web-based have turned out to be so successful that the technology-driven innovation is expected to create an annual value of about $410 billion by 2025 [2].
Improved treatment programs, convenient health progress tracking and the availability of professional online consultations are just some of the benefits medicine-technology synergy provides. However, product value alone is not enough anymore. Companies must guarantee a striking design and user-friendly interface to enhance brand recognition and provide a more personalized experience.
How to select the right development company to create a valuable product, and why not consider a typical software house?
Key points to consider when choosing a software company
Company expertise — you can't do without it
More precisely, medical experience.
Mistakes in digital health have far-reaching consequences. Even a seemingly minor flaw in the development can ultimately cost a human life. That is why extensive medical experience is so valuable.
Hiring a developer with 10+ years of experience in the technology you need is one thing. Hiring a developer with 5+ years of experience in the medical sector is another. That goes for marketers, copywriters, project managers, and designers. The difficulty of finding a company experienced in medical product development is attributable to the complexity of healthcare. There are indeed few firms that truly understand this market. Having medical experts on board will surely increase the likelihood of releasing a product that meets the needs of a med-oriented audience.
The bottom line is that the involvement of a development company with experience in the medical sector can bring more target results, aka a more high-value product.
Note: Make sure your potential software engineering partner is up to date on the latest medical market needs and understands all the legal and technical aspects of healthcare application development.
What's in a portfolio?
Here's what a medical software company's portfolio may include:
The number of clients and their area (pharma domain, therapeutics, wellness, etc.).
Types of software developed in the healthcare industry.
The complexity of projects, initial goals, and accomplishments.
Experience in integrating e.g. IoT, EHR, CRM, etc. systems.
E-commerce solution development in the medical sector.
Expertise in UI, UX, and technology stacks.
Your selection of a software house should be dictated by what kind of expertise is essential for the success of your product. For example, if it is an app for finding medication in nearby pharmacies, then you should look for a software house with experience in mobile app development, as well as in marketing. Speaking of marketing, it should not be neglected, as only by extensive promotion will you be able to distinguish your product in the competitive, app-filled healthcare market.
What else besides a portfolio can tell you about a company's expertise?
Study a "Case Studies" page to learn more about how the company handled certain challenges. 
Check third-party sites for reviews, such as GoodFirms or Clutch. 
Talk to the company's customers to get firsthand information.
Research the products the company has developed. Also, try to pay attention to the visual part of the solution along with its usability.
Who's on the team?


In addition to this, the team should have the following specialists:
Business analyst
Project manager
QA tester
Software architect or engineer.
Data security
Online security threats are of concern in many industries. However, this problem is especially pronounced in healthcare as this sector is responsible for storing and processing unusually high amounts of confidential data online. In 2021, 17% of all breaches took place in the healthcare sector [3].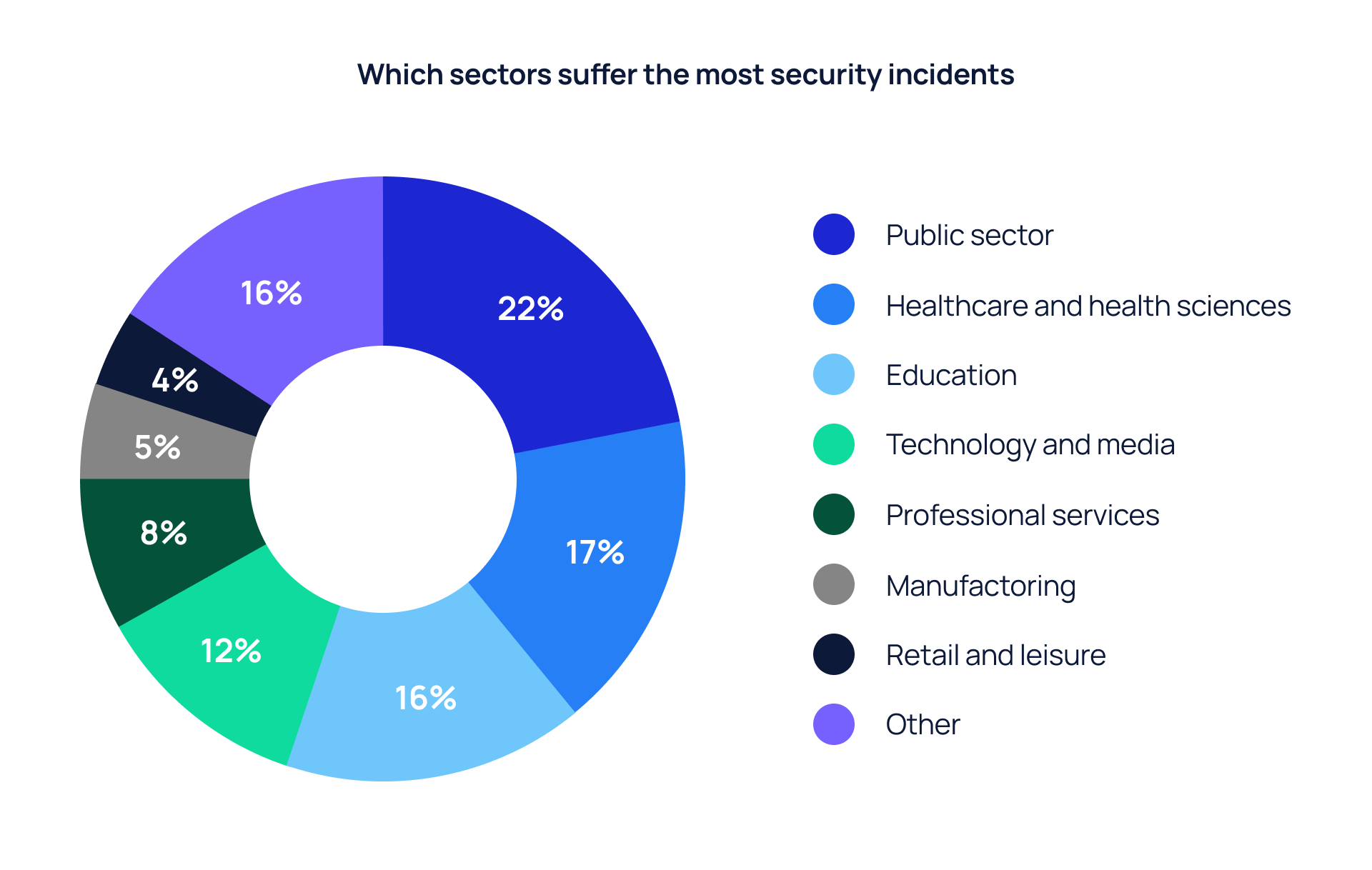 Extensive knowledge of compliance and regulations can help reduce data breaches. Also, it can potentially increase user trust in your digital solution.
When developing an online product, a company must comply with regulatory requirements regarding the collection, storage, and transfer of medical data. Healthcare software developers should also ensure that the solution complies with relevant laws, such as:
HITECH
HIPAA
HIS
PII etc.
Funding: Creating software for medicine, unlike other industries, is full of bureaucratic nuances. It's advisable to collaborate with subject matter experts who already have considerable experience in this niche.
Checklist: 3 Mistakes to avoid when picking a software partner
✔  Taking into account only the technical product lifecycle
Along with the development itself, the follow-up scalability of your just-released product is no less essential. Thus, consider the involvement of additional specialists in upgrades, promotions, and ongoing maintenance of product performance.
✔  "It's cheap — let's take it"
Perhaps, you can save money on development (which is not recommended because the technical part is the basis). However, keep in mind that oftentimes saving at the initial stages leads to increased costs in the future.
✔  Ignoring the human factor
It's vital to remember that you're working with people throughout the entire product lifecycle. "Being on the same wavelength" is paramount in business communications. Therefore, try to analyze not only the company and the technology it leverages but also the people you might need to collaborate with.
Finally
Since a regular software house does not have medical experts on board, its understanding of the healthcare sector can be rather limited. To create a pharma product, you need a specialized agency with extensive medical knowledge and experience. Brandmed's core asset is a diverse team of professionals — doctors, developers, designers, and marketers. Working with med-focused projects for 7+ years, we are up-to-date on the pitfalls of the digital health market and know how to get around them. Shall we discuss your idea in more detail? Contact us.
Deloitte, 2022 Global Health Care Outlook, https://www2.deloitte.com/content/dam/Deloitte/global/Documents/Life-Sciences-Health-Care/gx-health-care-outlook-Final.pdf, [last accessed: 17.10.2022]. 
Mckinsey, The era of exponential improvement in healthcare, https://www.mckinsey.com/industries/healthcare-systems-and-services/our-insights/the-era-of-exponential-improvement-in-healthcare, [last accessed: 17.10.2022].  
Itgovernance, Data breaches and cyber attacks quarterly review: Q1 2021,  https://www.itgovernance.co.uk/blog/data-breaches-and-cyber-attacks-quarterly-review-q1-2021, [last accessed: 17.10.2022].  
Steelkiwi, How to Find and Hire Healthcare App Developers, https://steelkiwi.com/blog/how-to-find-and-hire-healthcare-app-developers/, [last accessed: 17.10.2022].